A beautiful natural green diamond, this rates finest and biggest among the natural green diamonds ever discovered, this 40.70-carat diamond holds a Type IIa grading from GIA, as well as a VS1 clarity grade, along with a potential to achieve Internally Flawless grade if it were slightly re-cut. Yet even without that, this stone is worth a lot more than your average 40-carat diamond ring price.
This diamond has dimensions of 19.88 x 29.75 x 10.29 mm, with polish and symmetry graded very good, which is saying something since it was originally completed by cutters back in the 18th Century. Its green color is distributed almost uniformly throughout the inside, as opposed to being confined at the outer layers in the form of patches.
Type IIa diamonds are known for being free of nitrogen as well as other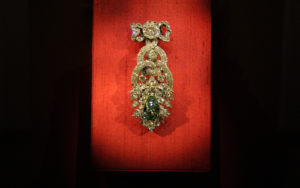 impurities, technically making them chemically pure. They can either be structurally perfect, structurally imperfect, or naturally irradiated. The Dresden Green falls in the third category, which only amounts to 0.1 % of all-natural diamonds. The distribution and depth of green are based on the kind of radiation the stone was exposed to during and after formation.