It is the only precious metal that has to be 95% pure for making jewelry. This is why engagement rings platinum diamonds are highly popular.
Platinum is special because it does not add any color of its own accord. Therefore, it leaves the diamond, ruby, sapphire, or other precious stones enhanced in their overall beauty. Still, platinum is frequently compared to white gold. Below is a comparison between platinum and white gold.
Platinum and White Gold
White gold and platinum have just one thing in common: their color. While platinum is characterized by a unique white luster, white gold has a faint yellow tinge.
During the manufacturing stage of white gold, yellow gold is alloyed with silver and copper. Traces of zinc and nickel are also added to add a white appearance to it. Of course, this means a white gold ring will be much less pure than a platinum ring.
In addition, the durability and strength of platinum are much higher than that of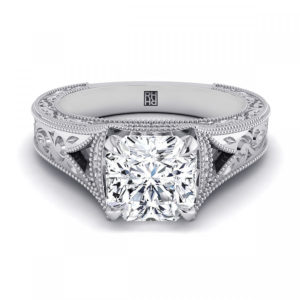 white gold. There is another differentiating factor; the weight of both these metals is different. Platinum is 60% heavier than 14k white gold, yet the precious does not tarnish as white gold does.