However, most such rings are way too expensive. Fortunately, there are certain settings that make a gemstone look bigger than its actual carat weight. For instance, consider a halo setting, three stone setting, a cluster setting, etc.
In the case of a cluster diamond engagement ring, smaller gemstones of similar sizes are tightly packed on a metal setting at the center. The whole setting will create the visual effect of a huge, sparkling solitaire engagement diamond ring. You'll find many mind-blowing designs under cluster diamond engagement ring.
One of the most common designs in cluster diamond rings features a cluster of melee diamonds at the focal point of a 22k yellow gold ring. All the gemstones are held closely by means of mini prongs made of rhodium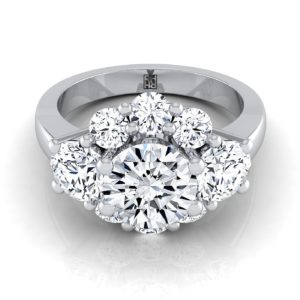 so that only the gemstones are visible. Additionally, a traditional four-prong setting is also given around the settings in order to replicate a solitaire ring.
Some of the other trending designs for a cluster diamond engagement ring include floral diamond ring, sunburst diamond ring, halo cluster ring, etc.