The first step to choosing a diamond engagement ring is choosing the shape of your diamond. It's the first thing everyone notices about your ring. Although the round brilliant is still the most popular, almost half of engagement rings today feature a fancy shape diamond. What does the shape of your engagement ring diamond say about you? Read our guide to the personality of each diamond shape to find out which shape is your perfect match.
Round Brilliant: You Are Warm & Loyal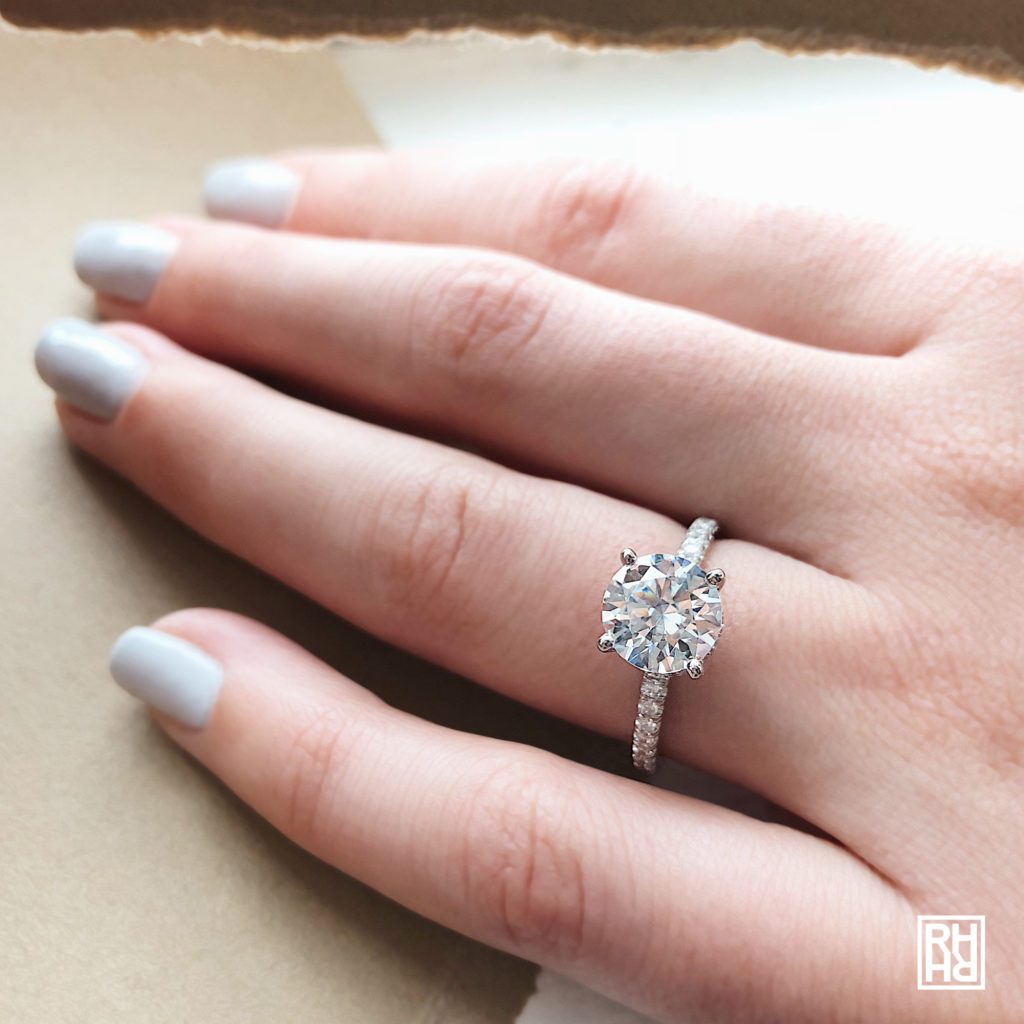 Classic Petite Split Prong Diamond Engagement Ring In 14k White Gold
With a warm smile that lights up every room, you are caring and generous. Easy-going and relaxed, you never lose sight of what's most important. Family and friends are the center of your life. When it comes to style, you appreciate timeless classics that have stood the test of time. The round brilliant, the diamond cut with the most sparkle, is as lively as your personality.
FAMOUS ROUND BRILLIANT ENGAGEMENT RINGS: Michele Obama, Scarlett Johansson, Amy Adams, Emily Blunt, Felicity Jones, Olivia Wilde, Alison Williams, Kate Mara, Julia Stiles, Amy Schumer, Mandy Moore, Taraji P. Henson, Kacey Musgraves
Oval Cut: You Are Elegant & Creative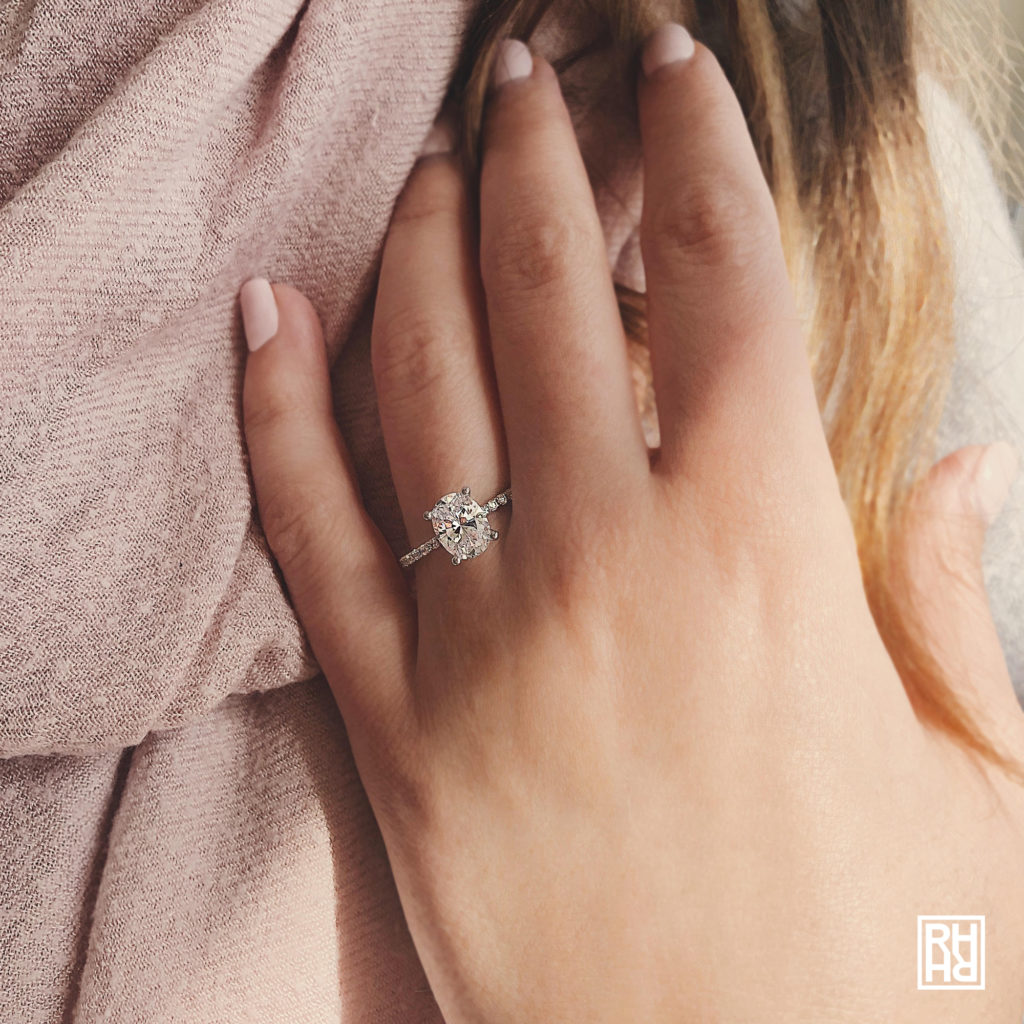 Classic Petite Split Prong Oval Diamond Engagement Ring in 14k White Gold
You fill life with love and laughter, balancing creativity with organization. You're fun but also accomplished: you seem to effortlessly handle everything that life throws at you. An average week might find you in the bleachers or at the opera. Elegant and eclectic, you're unpredictable but everyone can still count on you. The oval shape diamond is the perfect expression of your dual nature: sophisticated yet carefree.
FAMOUS OVAL ENGAGEMENT RINGS: Blake Lively, Serena Williams, Kate Middleton, Hailey Baldwin, Caroline Wozniaki, Rose Leslie, Tara Lipinski, Carrie Ann Inaba
Cushion Cut: You Are Romantic & Timeless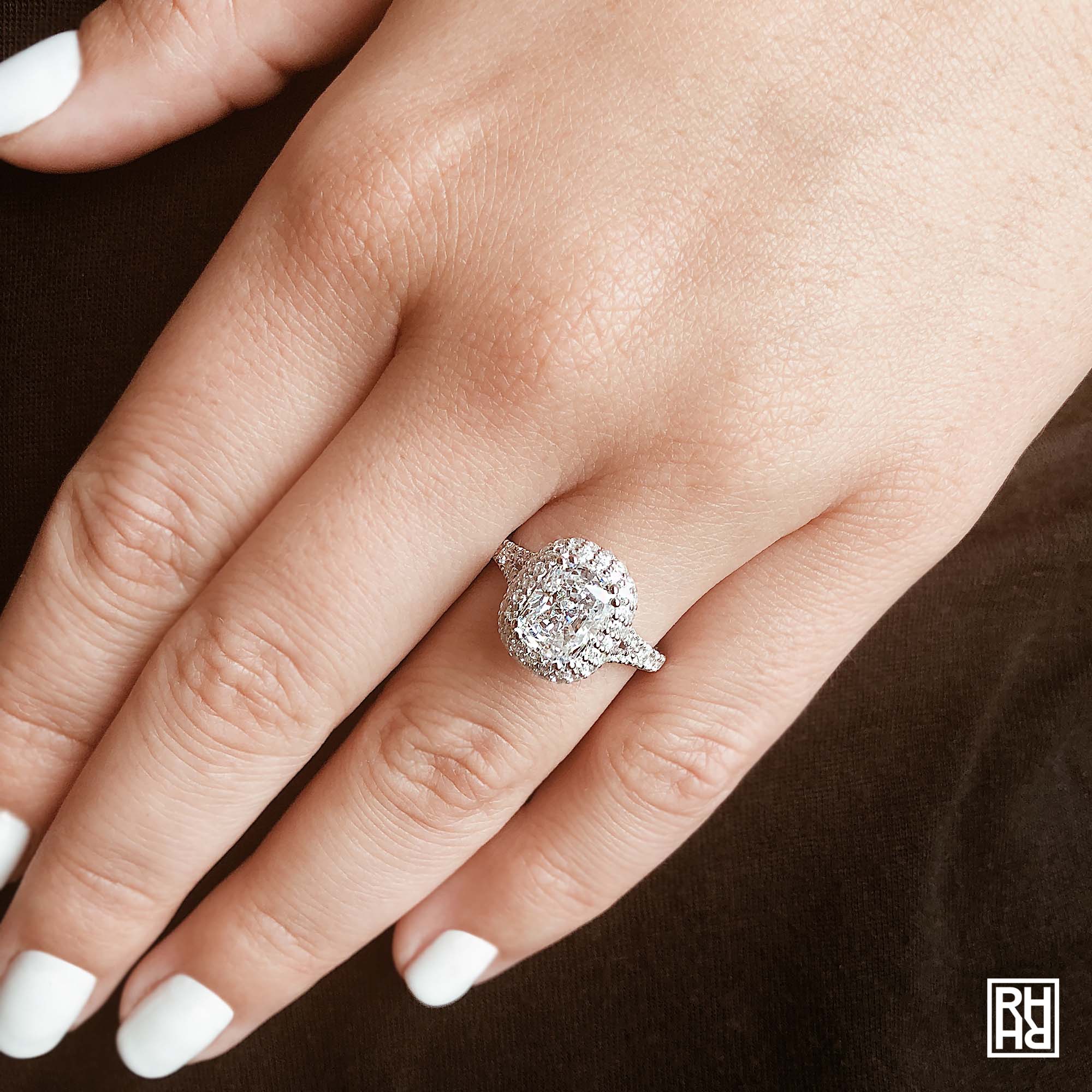 Cushion Cut Double Halo Engagement Ring With Diamond Pave Shank in 14k White Gold 
The world sees you as strong and capable but you also have a soft romantic side. You're sentimental and a bit nostalgic. You are a loyal and thoughtful friend who is always there when it counts. You have a natural elegance that shows in everything you do. Your combination of sense and sensibility is the perfect match to the cushion cut, a fashionable shape with a touch of vintage romance.
FAMOUS CUSHION CUT ENGAGEMENT RINGS: Karlie Kloss, Meghan Markle, Chrissy Teigen, Kim Kardashian, Sofia Vergara
Pear Shape: You Are Adventurous & Vibrant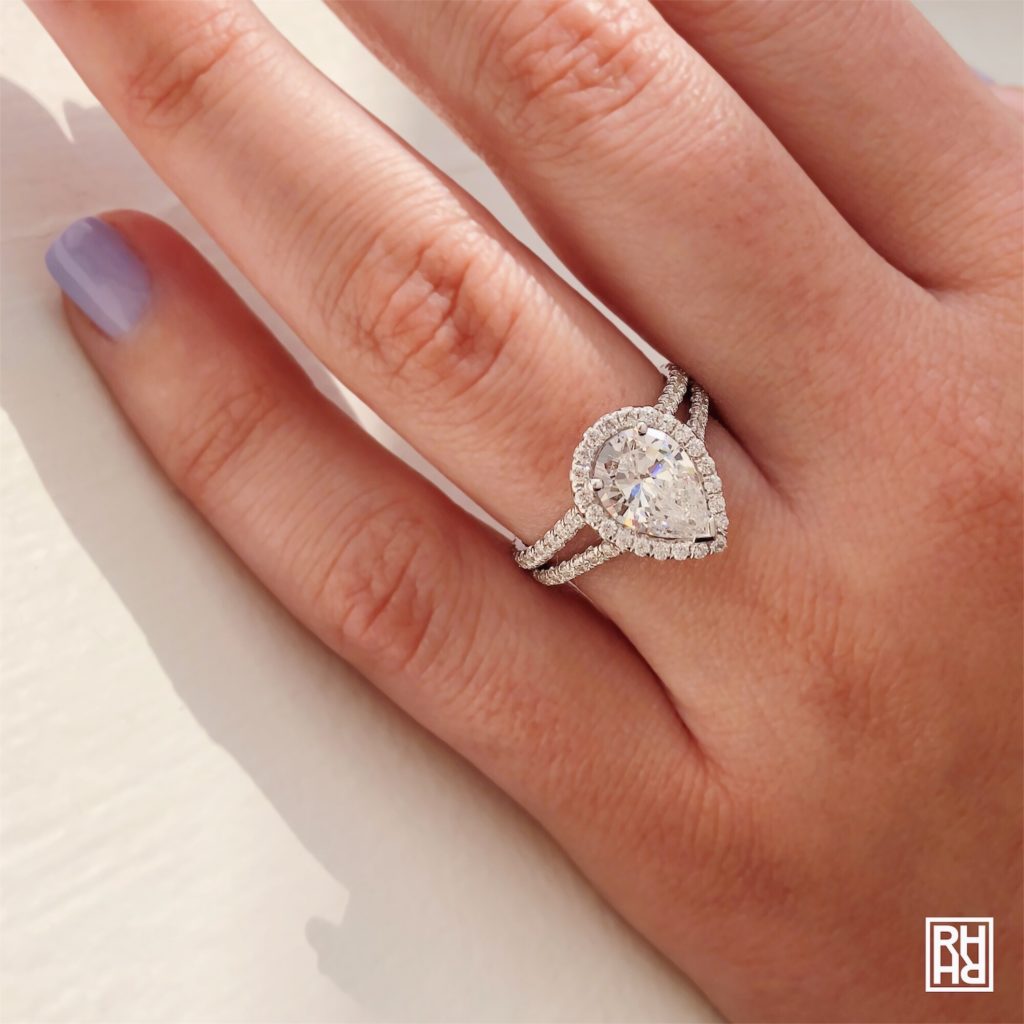 Pear Shaped Diamond Halo Engagement Ring With A Split Shank In 14k White Gold
You're the life of the party, the one everyone is drawn to in a crowded room. You're always ready for anything and life with you is never boring. You're also creative, intuitive and compassionate. Your wide circle of friends follows you on adventures. But despite your lively personality, you are also a devoted friend and passionate partner. The pear shape is perfect for both your edgy energy and your softer side.
FAMOUS PEAR SHAPE ENGAGEMENT RINGS: Ariana Grande, Cardi B, Paris Hilton, Margot Robbie, Katherine Heigl, Anna Kournikova
Emerald & Asscher: You Are Glamorous & Confident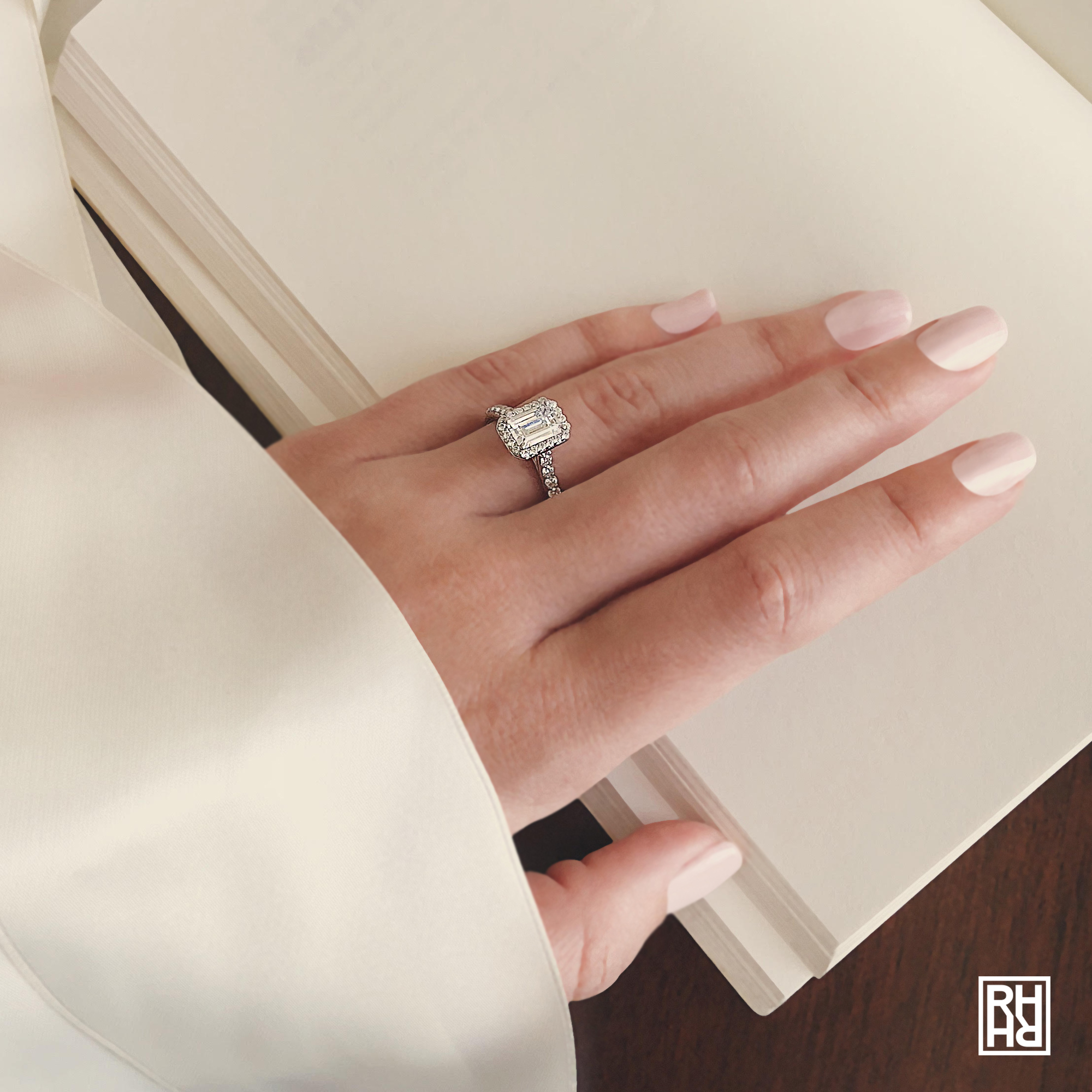 Emerald Cut Diamond Halo Engagement Ring With Pave Shank in 14k White Gold
You don't follow trends, you set them. You know who you are and where you're going. Sophisticated and strong, you're a natural leader, ready to take on challenges with a smile. The world is your oyster! Your friends rely on you to know the best new restaurant, the latest band, amazing new little boutique, and which shoes look best with that dress. In short, you slay. Every day. Of course the emerald cut is as perfect for you as it is for Beyonce.
FAMOUS EMERALD CUT ENGAGEMENT RINGS: Beyonce, Grace Kelly, Amal Clooney, Angelina Jolie, Anne Hathaway, Elizabeth Taylor, Jessica Alba
Marquise Cut: You Are Confident & Dramatic
You break the rules and blaze your own path. You don't care about what anyone else thinks because you know what's right for you. Fiercely loyal to your tribe, you are the instigator: you create fun and adventure wherever you go. Edgy and unusual, the marquise is as surprising as you. Set it sideways to be even more unexpected.
FAMOUS MARQUISE SHAPE ENGAGEMENT RINGS: Victoria Beckham, Catherine Zeta-Jones
Princess Cut & Radiant Cut: You Are Bold & Independent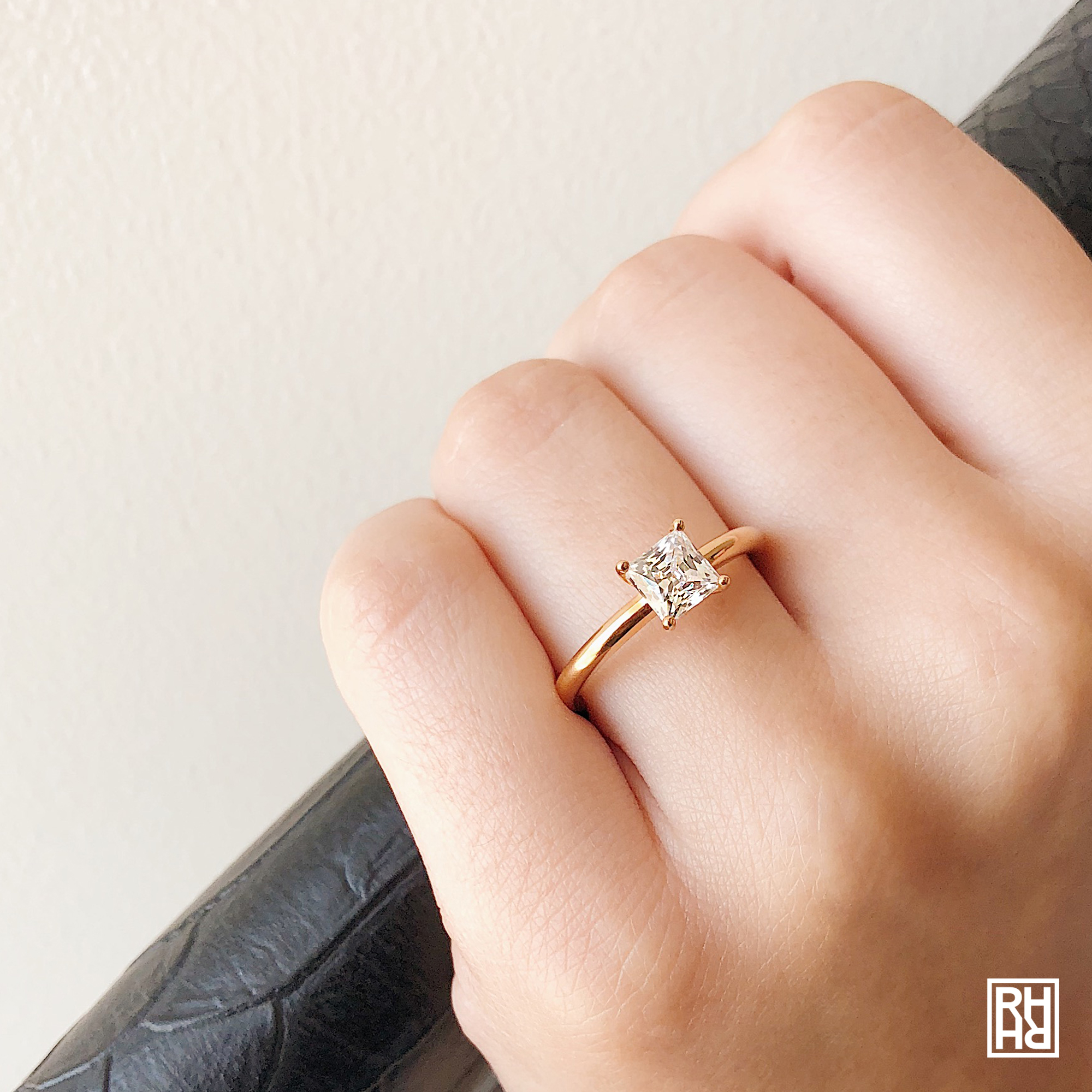 Princess Cut Diamond Solitaire 4-Prong Engagement Ring With Rounded Shank in 14k White Gold
You are independent and strong, not afraid to shine in the spotlight. Your confidence is inspiring to those around you. Your creativity and passion give you the dedication to succeed in anything you put your mind to. You aren't afraid to take risks to get what you want. The geometry of the princess cut and radiant cut echo your modern personality.
FAMOUS PRINCESS CUT AND RADIANT ENGAGEMENT RINGS: Lea Michelle, Emily Ratajkowski, Kate Bosworth, Hillary Duff, Samira Wiley
Heart Shape: You Are Sentimental & Feminine
You are a dreamer with a flair for the dramatic. You're confident and not afraid to take chances in life or love. You have high standards for yourself and you expect a lot from those around you too. You trust your intuition and know that your heart is what makes you strong so you're not afraid to show your emotions. Your engagement ring is a tattoo or a heart-shaped diamond: either way, you jump in with both feet.
FAMOUS HEART SHAPE ENGAGEMENT RINGS: Lady Gaga, Nicki Minaj