Holiday proposal season is almost here! We're busy crafting rings, setting diamonds, and creating custom engagement rings for some soon-to-be engaged couples. Is a big question in store for you this season? Here are the top holiday engagement ring trends to inspire you to create your dream engagement ring.
1. Slim Pave Band Engagement Rings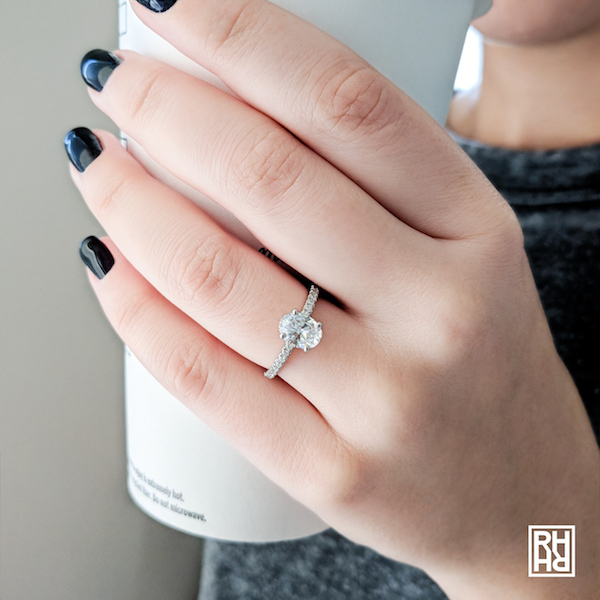 A simple setting still has maximum sparkle when the delicate band is covered in pave diamonds. The thin band also makes the center stone look larger. This is the top trend of the year and it shows no sign of slowing! Its classic silhouette will stand the test of time too.
2. Oval Diamond Engagement Rings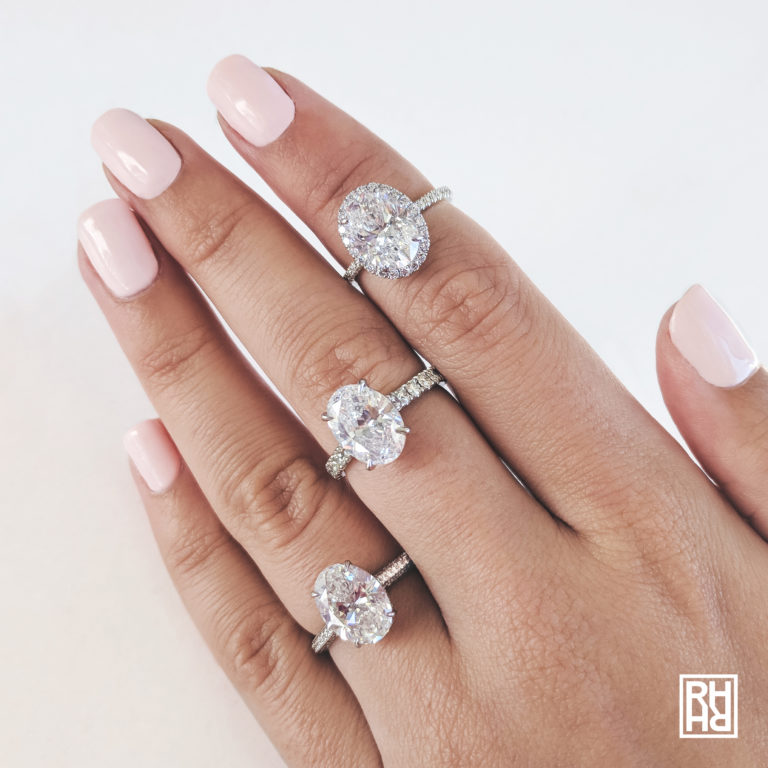 Our customers are going crazy for oval shape diamonds. The elongated silhouette is so flattering on the finger! And the oval cut faces up so much larger than a round diamond the same weight. We're setting ovals on diamond pave band styles and with halos that make them look even bigger: either way this classic diamond shape is pure elegance.
3. Rose Gold Engagement Rings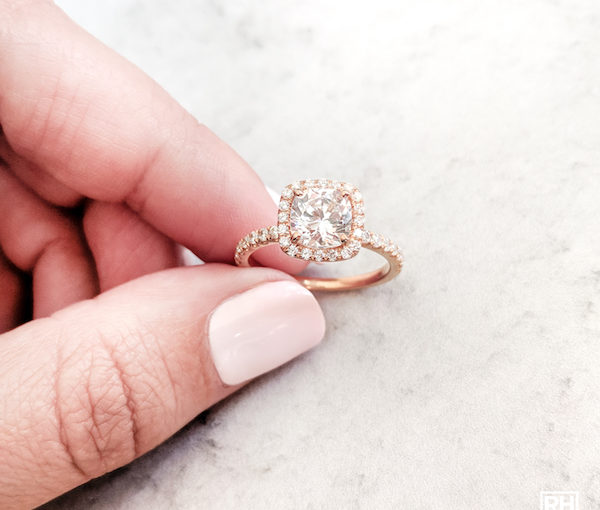 Warm against the skin rose gold is flattering and feminine. The contrast of the warm color against icy diamonds makes your center stone look whiter and brighter. After years of all-white settings the color looks so fresh, even is simple classic styles.
4. Cushion Cut Diamond Engagement Rings
A little bit vintage and a little bit modern, the cushion cut is becoming more and more popular. It's the brightest of the fancy shapes, with brilliant hearts and arrows cushions now available too. Cushion cuts give a classic style a bit more charm and romance.
5. Fancy Halo Engagement Rings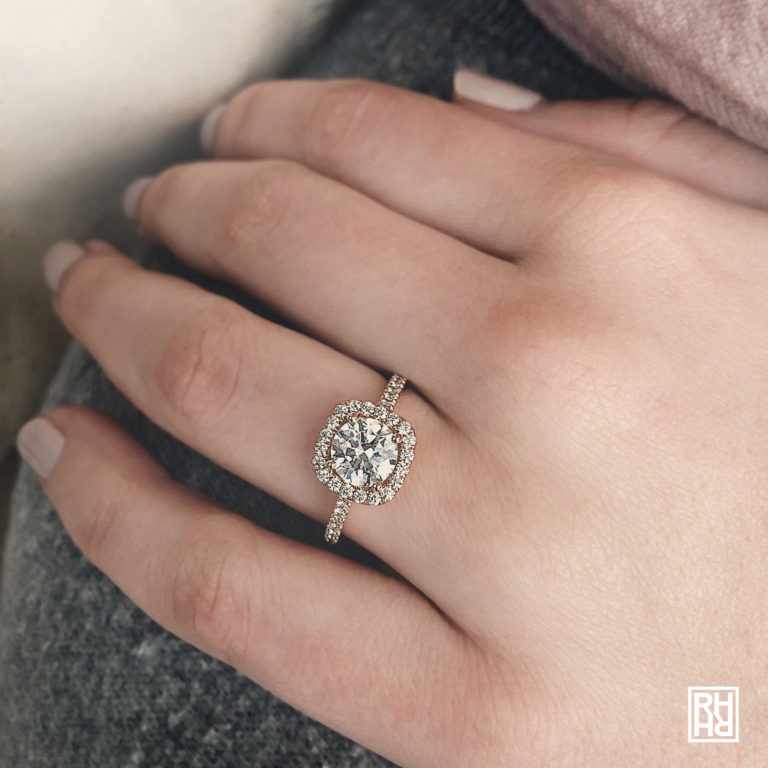 Because a lot of customers love the charm of a cushion cut but also the classic brilliance of a round, we've created a cushion-shape halo for a round brilliant center stone. This best-of-both-worlds design is becoming more popular because it's slightly unexpected but still classic. This is also a good option for cushion-loving customers who are designing a new setting for a round family diamond.
6. Halos Plus Side Stone Engagement Rings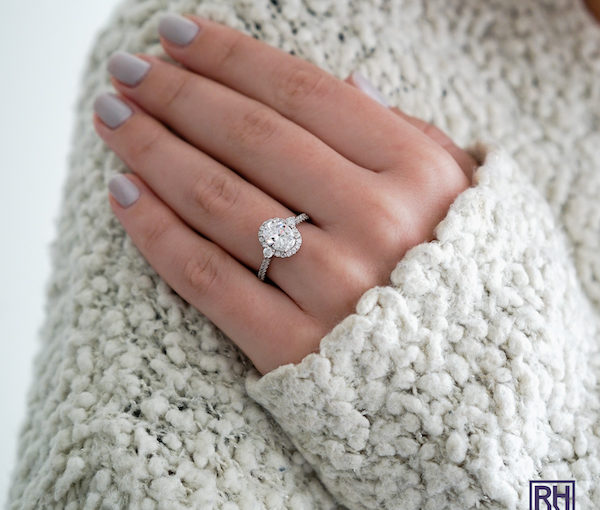 Two popular styles, halo engagement rings, and three stone rings got married and had a beautiful baby: the halo three stone. With plain halos now everywhere, customers are adding side stone detailing to a halo design to create this hybrid style. We can see why it's becoming popular: you are drawn to it without realizing what makes it special at first.
7. Sleek Solitaire Engagement Rings
With so many halo and pave band designs out there, we're starting to see a trend for simple solitaire styles again. (They also look really beautiful stacked with a pave wedding band.) We most often see these classic solitaires in yellow gold, but platinum is also trending.
8. Baguette Diamond Engagement Rings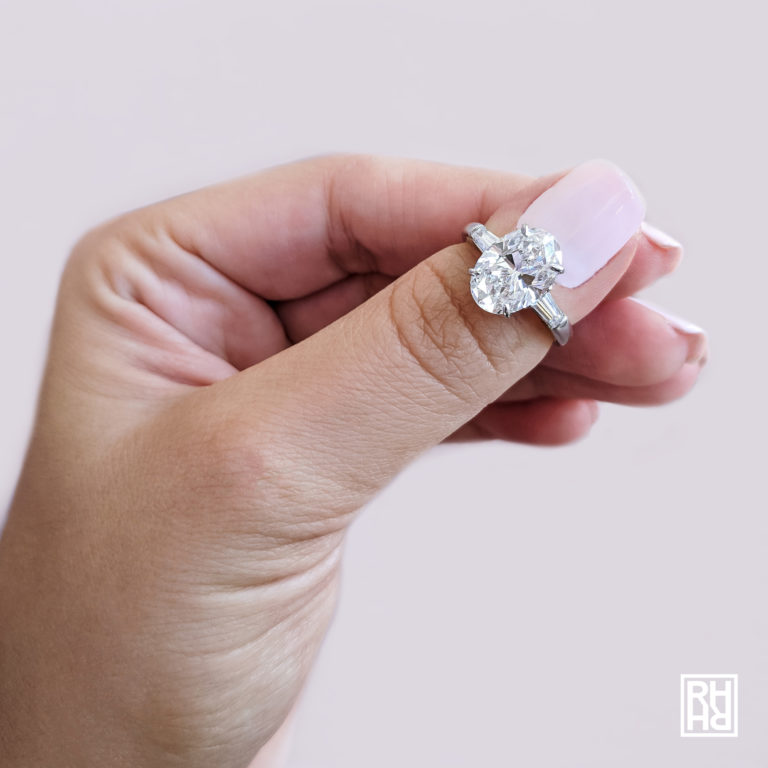 The most popular three-stone designs are styles with baguettes on the side. Tapered or straight baguettes look sleeker than a pave band and they work well with every shape center stone. Baguettes give even a simple setting an Art Deco vibe that our customers really love.
9. Engagement Rings With Matching Bands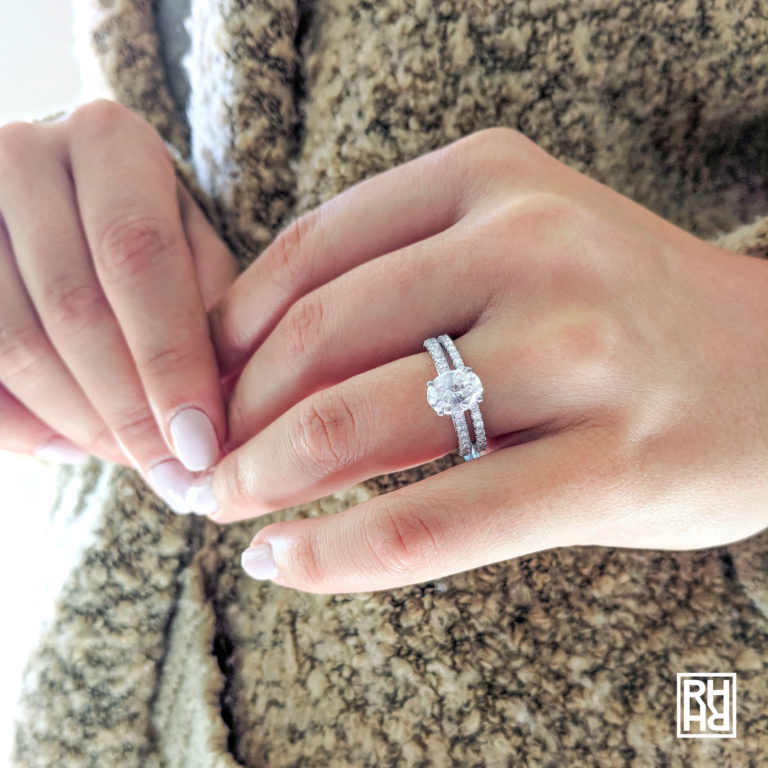 More customers are thinking of the wedding band when designing the engagement ring. Although we can design a matching band for any setting, sets that have a pave band engagement ring with a matching pave wedding band is particularly popular. (And a second band to stack on the other side is a great way to celebrate an anniversary or the birth of a child.)