We enjoy looking at star's mega-carat engagement rocks as much as the next person. (Hello Jennifer Lopez's sparkler!) But we're here to tell you that if you don't have a million dollars to spend on an engagement ring like A-Rod, there are plenty of gorgeous affordable diamond engagement rings under $5000.
Buying a truly beautiful diamond ring that you can afford starts with buying a loose diamond. Buying the center diamond for your ring separately ensures that your diamond will be great quality at a great value: you can choose the exact color and clarity that you want. Online retailers like RockHer have 60,000 diamonds to choose from so you are able to find a great diamond at a great value and have it set in the exact engagement ring style you want.
Here are proven strategies for smart engagement ring shopping on a budget that will help you in buying a beautiful engagement ring for $3000, $4000 and $5000 without sacrificing quality or style. These rings are proof that you don't need to spend a fortune on getting engaged: you can get a nice engagement ring for under $5000.
Diamond Engagement Rings Under $5000
What is the secret for buying a stunning diamond ring under $5000? The magical 0.95 carat diamond. If you pick a diamond that's just under the one-carat mark it will look like a one-carat diamond but it will cost much less.
Try an I color, SI1 clarity diamond around 0.95 carats for maximum value for minimum dollars. On RockHer, you can find a beautiful well-cut diamond like this for less than $3500.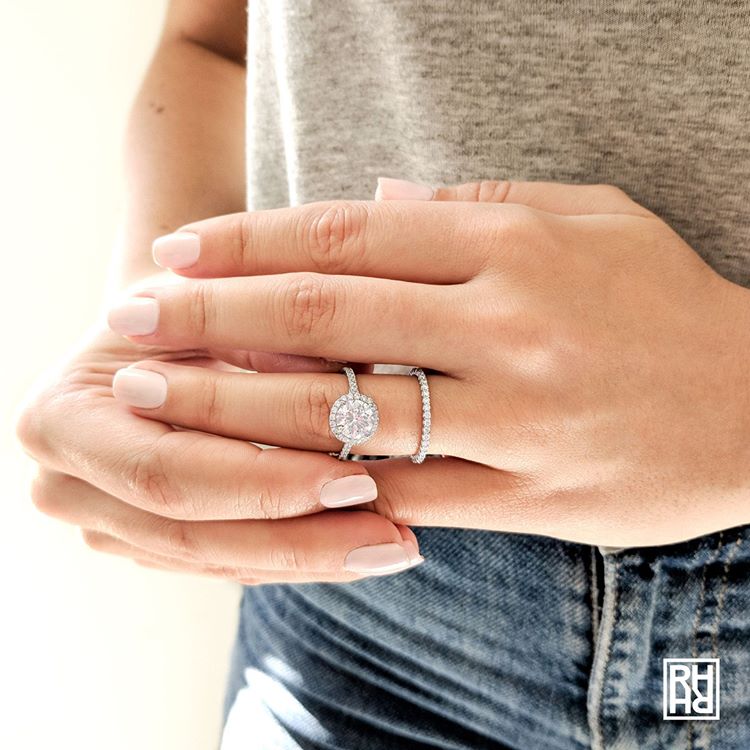 Now set it in RockHer's stylish 14k white gold Dylan setting, which has a diamond halo (that makes the center stone look even larger) and a diamond band for even more sparkle. It will be custom made to order just for you by craftspeople in Los Angeles.
The total for the ring? It will fit in your engagement ring budget of $4500-$5000 depending on the diamond you pick.
Not a big enough diamond for you? Here's another secret. If you pick a fancy shape diamond, the cost per carat is cheaper. You can buy a bigger and better center diamond for less. You can't buy a 2-carat diamond for $5000 but you can buy a diamond that looks like a two-carat size when it's set. Here's how.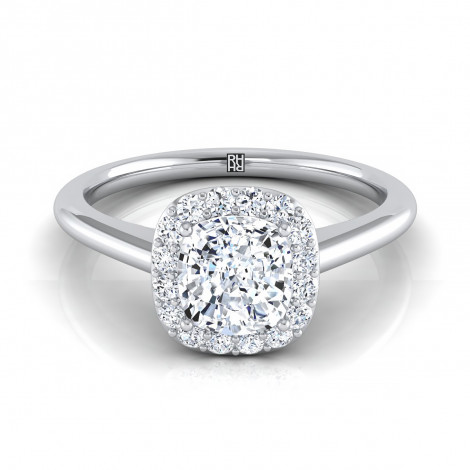 You can buy a 1-1/4 carat weight H color SI1 clarity cushion cut diamond for around $3900. Set it in RockHer's 14k white gold Etta halo setting and you'll have a stunning carat-plus ring (that looks even bigger) for about $5000. Fancy shaped diamonds like cushion cuts, oval shapes, and pear shapes face up larger than a round brilliant diamond. Combined with the halo, your diamond will look much larger but you still have that beautiful engagement ring under $5000.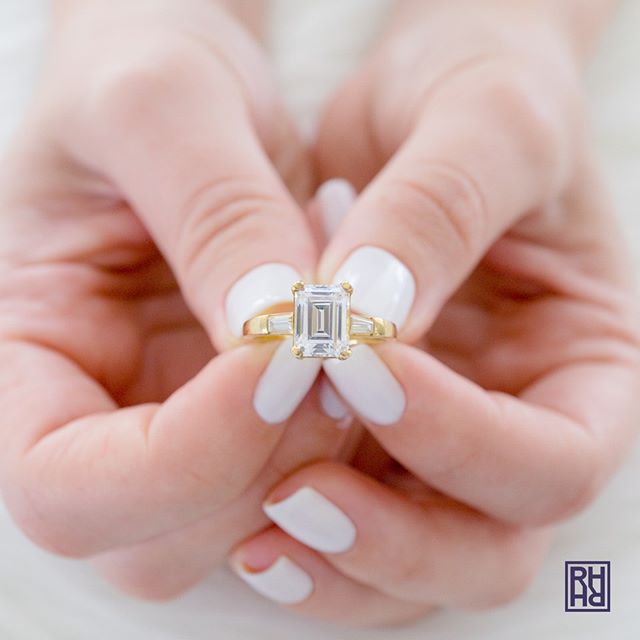 A G color SI1 clarity 1.20-carat weight emerald cut diamond is only $3500 so there's room in your budget for Rockher's $1185 Caroline setting (that's just like JLo's) and you'll even get change back from $5000.
Solitaire engagement rings for $5000 can have an even larger fancy-shaped diamond.
Our favorite diamond shapes to help you save the most are cushion cut, oval shape, and radiant cut. Try any of these fancy diamond shapes and you'll be able to find a near-colorless eye-clean diamond that's bigger than a carat and a stylish engagement ring for less than $5000.
See 1001 Engagement Rings Under $5000
Diamond Engagement Rings Under $4000
When you are shopping for a diamond engagement ring under $4000, search for a round diamond around 0.70 carat or a fancy shape diamond like a cushion cut, oval or radiant around 0.90 carat.
For a round diamond, look for a near-colorless I color and eye-clean SI1 clarity. For a fancy shape, look for an H color and SI1 clarity. Don't sacrifice the quality of your diamond's cut. Very good to excellent cutting will give your diamond brilliance and sparkle.
To make this smaller center diamond something breathtaking, we recommend a double halo engagement ring setting. Just look at the Cadence setting with a half-carat round diamond and see how major this style can be.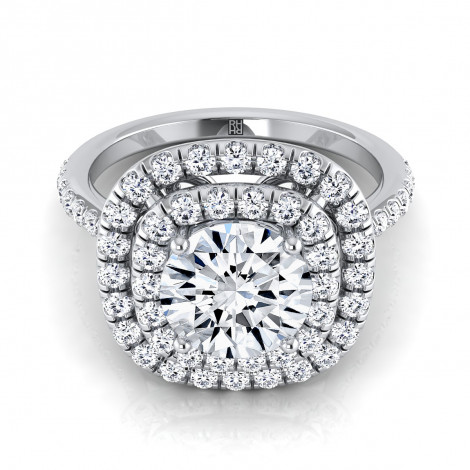 Another good choice for a $4000 engagement ring is a three-stone engagement ring style. This style covers the finger for extra impact. Try an oval-shaped diamond, pear-shaped diamond, heart-shaped diamond or cushion cut diamond in the middle for an even bigger look.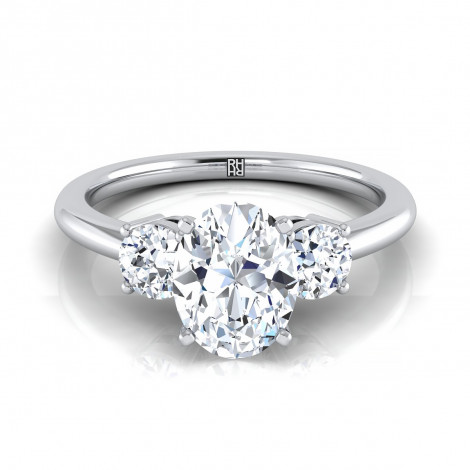 See 1001 engagement rings under $4000
Diamond Engagement Rings Under $3000
Looking for a gorgeous diamond engagement ring under $3000? No problem. The key to a big beautiful diamond in this price range is to select a slightly warmer colored diamond like a J color while keeping your diamond eye clean with an SI1 or SI2 clarity.
And here's the thing: you probably won't even notice the J color if you set your diamond in yellow gold or rose gold.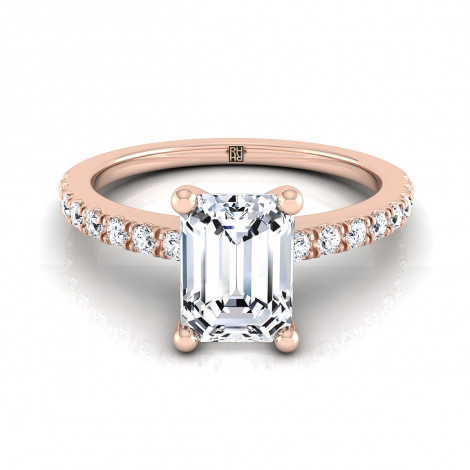 What we love about this most is that your diamond is still excellent quality: thanks to superior clarity and cut it will sparkle with brilliance. No one will know all the money you saved except you!
Combine the J color and rose or yellow setting with a 0.90-carat weight, a double halo, and a fancy shape and you are sure to have an engagement ring you'll love forever.
See 1001 Engagement Rings Under $3000
Diamond Engagement Rings to Fit Any Budget
No matter what your diamond engagement ring budget, the easiest way to find the perfect ring that fits it is to use artificial intelligence. RockHer's digital gemologist ROSI will evaluate 60,000 center diamonds and 5,000 diamond engagement ring settings (more than 3,000,000 options in all!) to find you the best possible engagement ring options to fit your budget.
You can choose your metal, diamond shape, setting style or let ROSI choose the best value in your price range, it's up to you. You'll find thousands of beautiful engagement rings you can actually afford. Find an engagement ring in your price range!