We all love the charm of antique rings, but finding the right vintage engagement is difficult. Even if you find the right design, the ring might be worn, the wrong size, or have a different size, shape, or quality diamond than the one you really want. Like everything used, there are little imperfections that are the signs of the person who wore it before you did.
Never fear: there are five easy ways you can design a brand-new, never-worn-by-anyone-but-you engagement ring to have the same character as an antique ring. You can have your wedding cake and eat it too.
Antique or Cushion-Cut Engagement Rings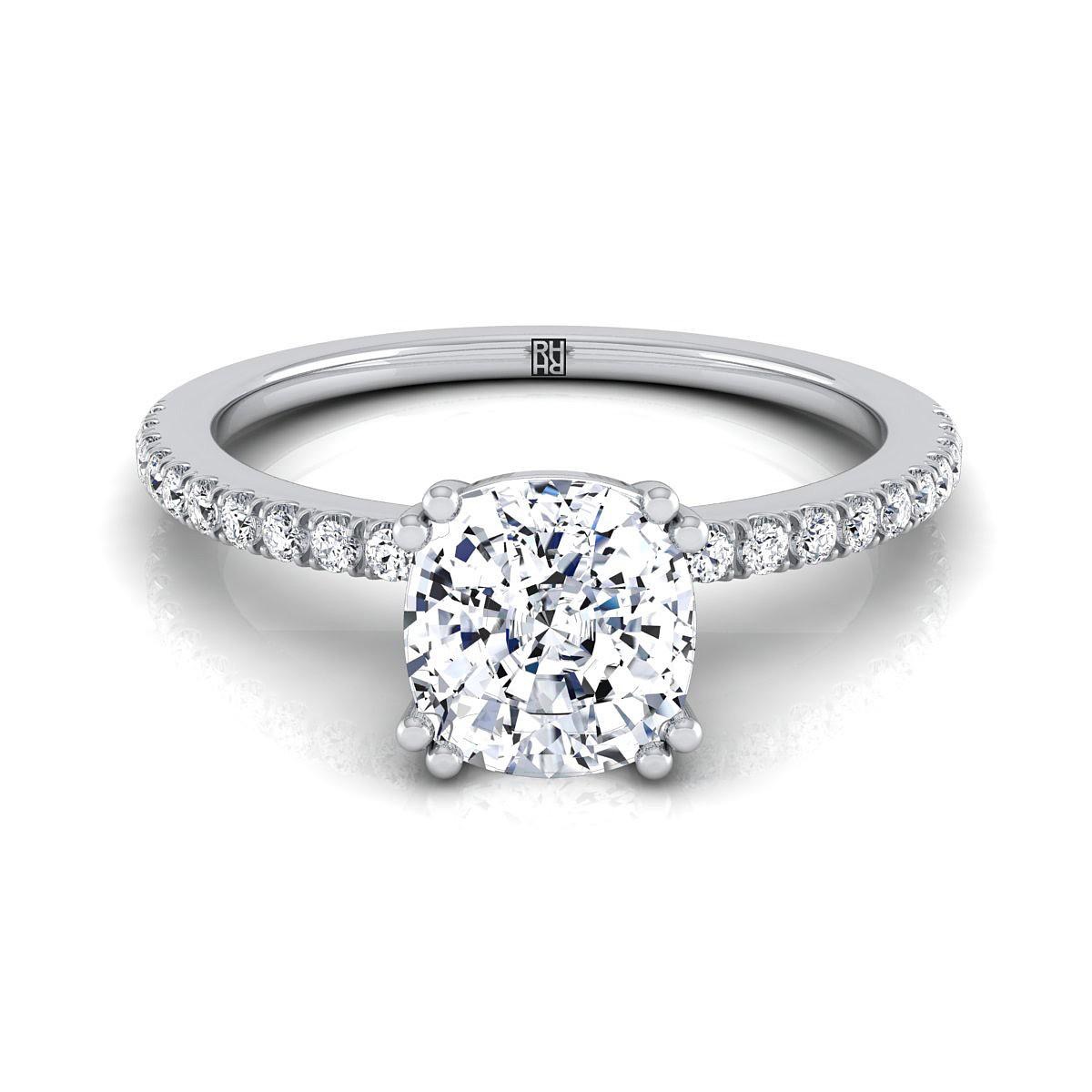 14K White Gold Cushion Cut Diamond Engagement Ring 
One of the easiest ways to give even a simple setting an antique feeling is to choose an antique diamond cut, like a rose cut diamond, old European cut diamond or old mine cut diamond. If you love the feeling of these antique cuts but also want the brilliance of a modern diamond, a cushion cut gives you that vintage ring feeling with all the sparkle of today's precision cut. Try RockHer's signature Brilliant Cushion for all the light performance of a hearts and arrows diamond in a charming cushion shape.
Beaded Engagement Rings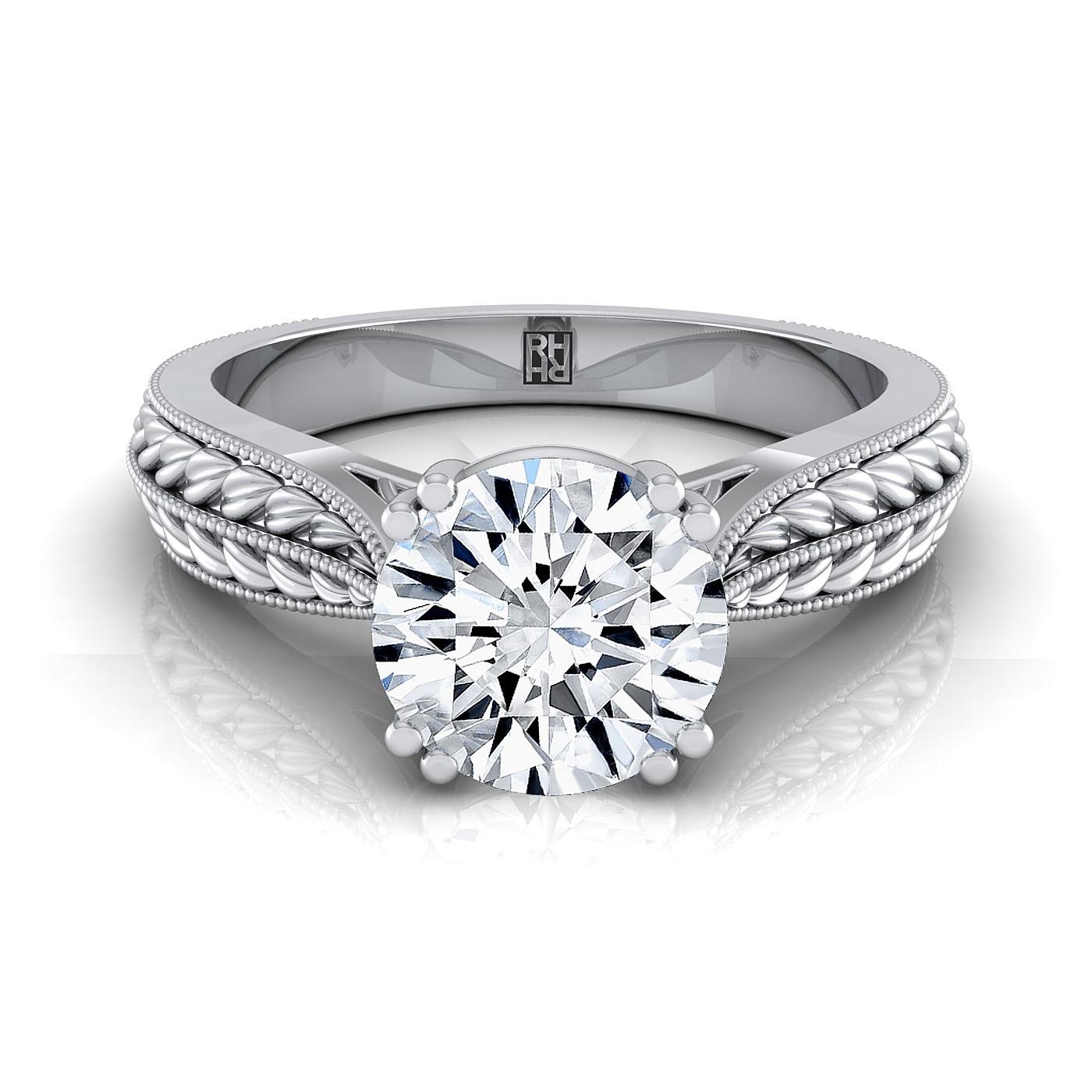 Solitaire Diamond Engagement Ring With Beaded Frame
Tiny beaded details along the lines of your design are called milgrain, from the French for "thousand grains." Millegrain was developed as a popular way to add texture to platinum jewelry design in the late nineteenth century. It's especially popular in Edwardian designs. Like the knots in fine lace, these little beads of metal give any design vintage flair. Unfortunately, in antique engagement rings the milgrain can be worn down. Fortunately, you can add milgrain detailing to a ring today and it will look like an antique ring did when it was new.
Filigree Engagement Rings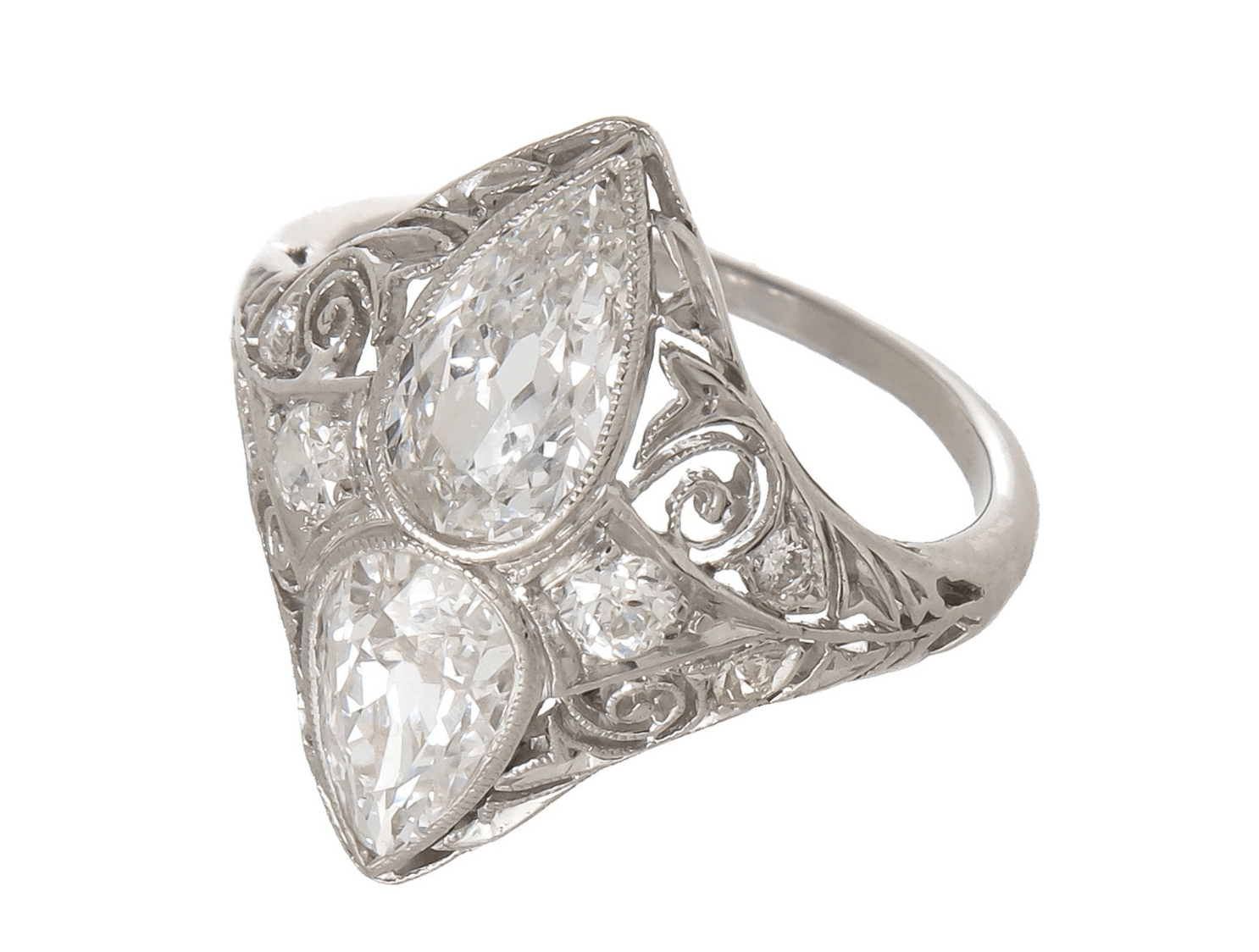 Custom Design Engagement Ring With Filigree 
Filigree is fine metalwork detailing, with thin metal threads that are formed into intricate openwork designs. Lacy and delicate, it's very characteristic of vintage designs, especially in platinum. It can give a ring with smaller diamonds a more substantial presence without adding weight. Antique filigree engagement rings sometimes have missing sections damaged by time. They can snag or catch on sweaters or scarves. It may be difficult to size a very intricate design without weakening it. Never fear. You can create a lacy custom filigree engagement ring today with one of your favorite motifs that fits you perfectly!
Scrollwork Engagement Rings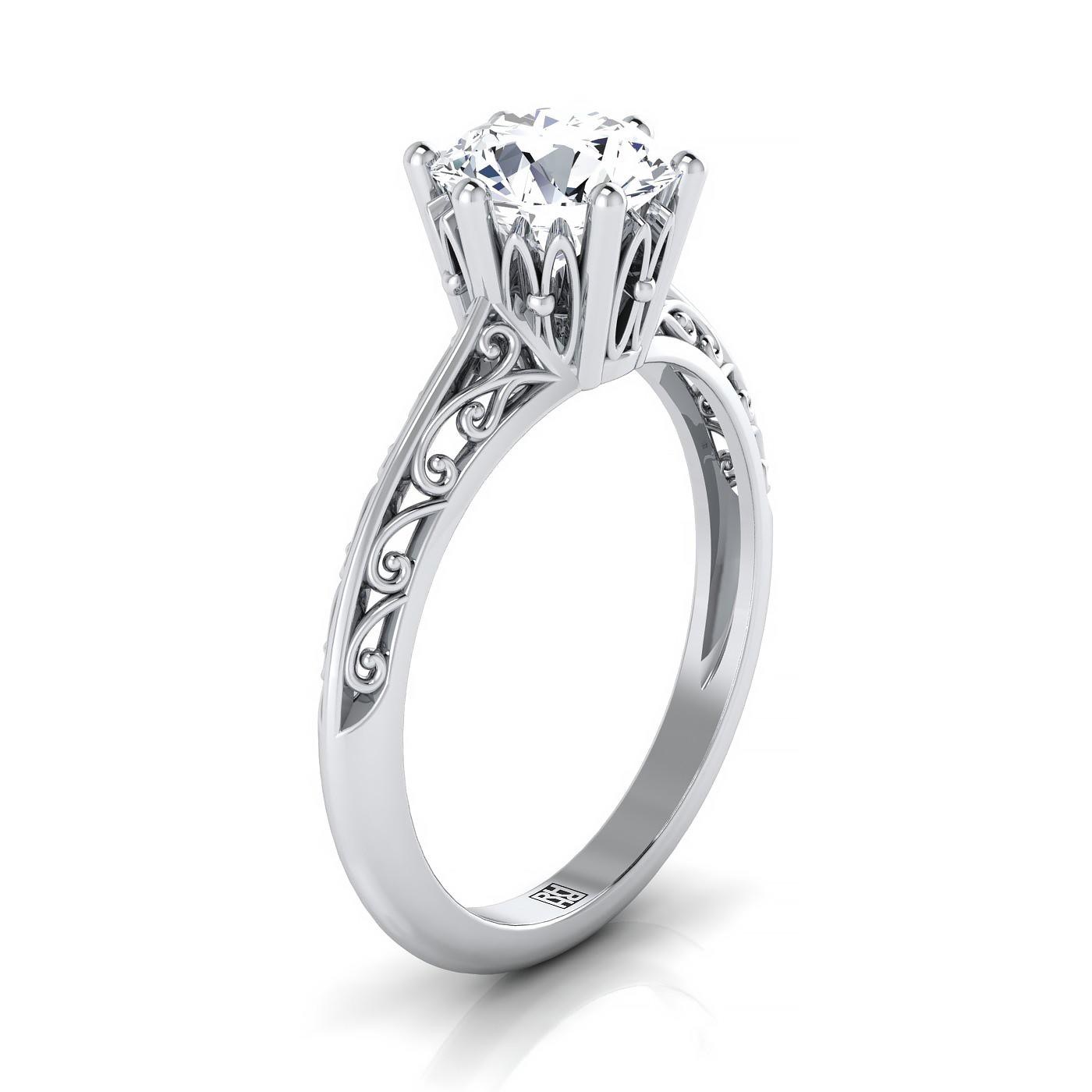 Solitaire Diamond Engagement Ring With Graduated Shank Scroll Detail 
One of the most popular openwork motifs of filigree is called scrollwork: tiny curls of wire that form a spiral design. It might remind you of beautifully wrought iron gates. Scrollwork is especially popular as a side detail, either framing a cathedral setting, an elevated prong solitaire, or even adding charm to the side of the band. It's a romantic touch that adds a vintage character to your engagement ring. Even a plain solitaire setting will have a vintage flair with scrollwork from the side. Scrollwork engagement rings are a bit more sturdy than other antique-style engagement rings so they are a good choice if you are a romantic with an active lifestyle.
Engraved Engagement Rings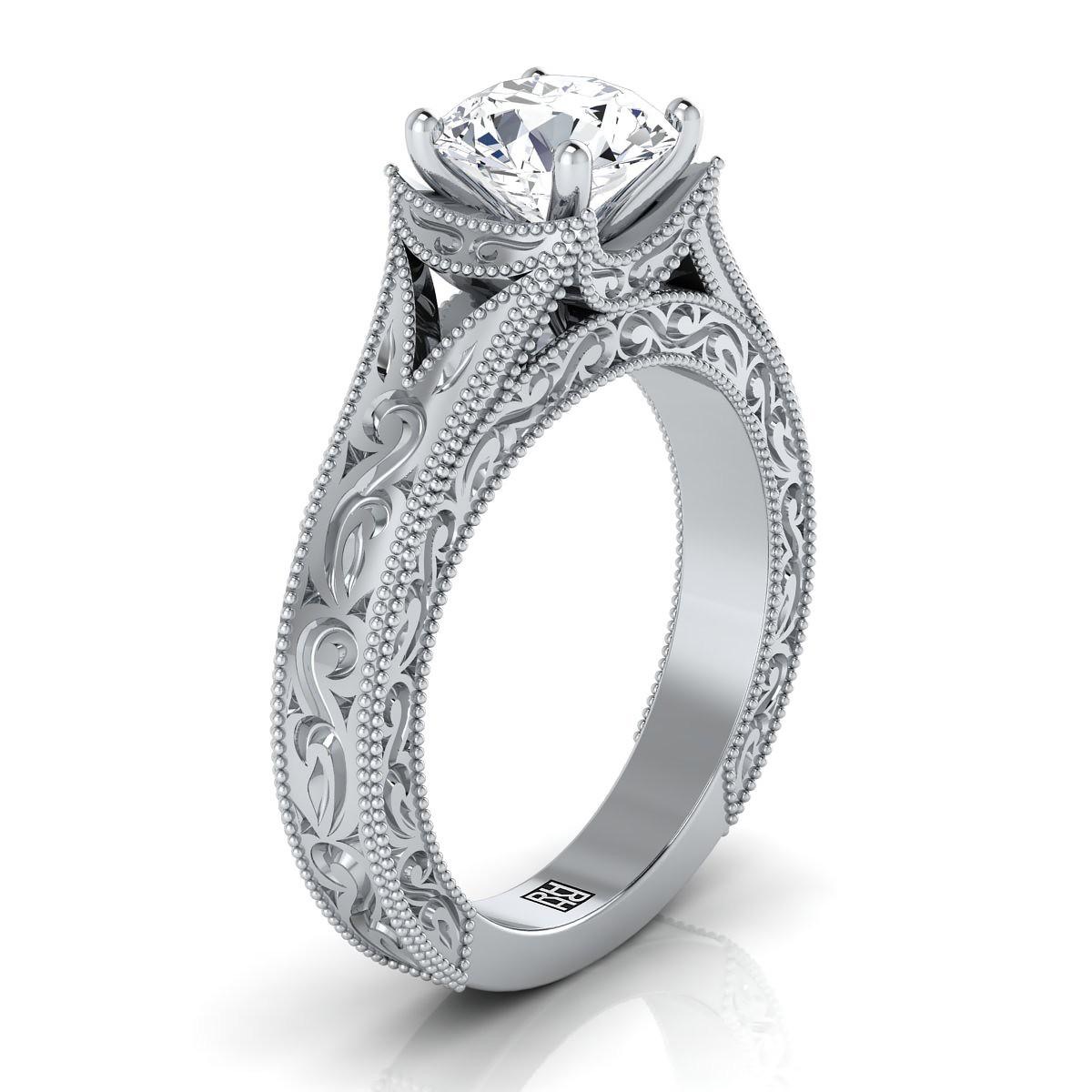 Vintage Inspired Round Cut Diamond Engagement Ring With Engraved Detail 
Another popular technique from the Edwardian period, engraving adds detail and dimension to every metal surface of some beautiful antique rings. Engraving can be as simple as a romantic message or initials inside your ring or as elaborate as scrolled details on every surface of your ring. The years have not been kind to many antique engraved rings. In particular, the back and sides of bands can be worn down by friction over the years.  But the most difficult thing about an all-over vintage ring is that it can't be sized without damaging that engraving. That's why antique-style engraved engagement rings designed today have a plain area in the back of the ring that is large enough to allow for sizing if you (or your daughter or daughter-in-law) need it in the future. Also CAD/CAM, computer-aided design and manufacturing techniques have advanced enough today that you can achieve an engraved texture without the expense of hand work. This also allows you to see exactly how your ring will look before it's made.
Flower Halo Engagement Rings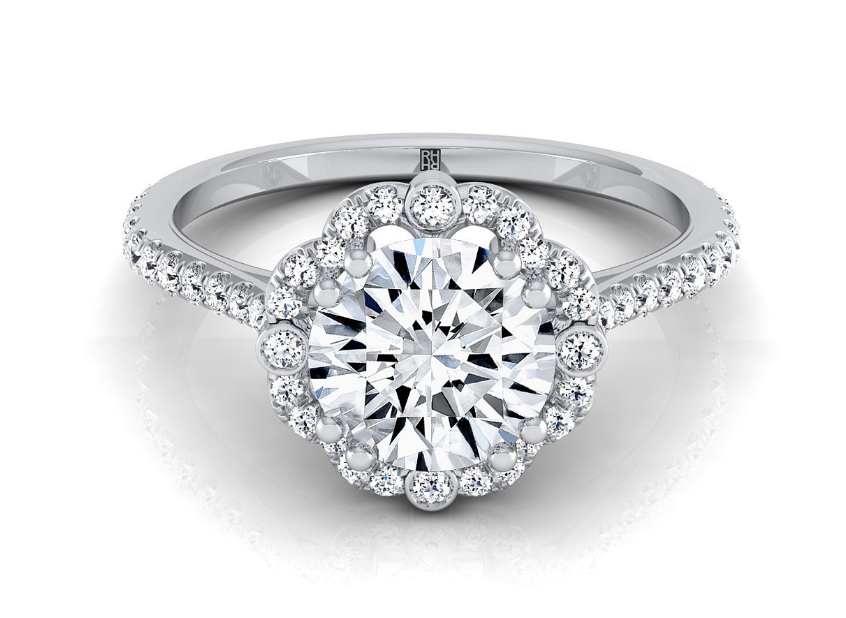 Round Cut Scalloped Halo Diamond Engagement Ring 
The diamond halo engagement rings, with a sparkling frame of small diamonds around the center stone, are one of the most popular modern engagement ring styles. If you love the way a halo makes the center diamond look larger but would like a style with the charm of an antique ring, a flower halo engagement ring with a scalloped outline gives you both. Add four larger diamonds to the halo at the compass points or graduate the diamonds around the halo to give your ring a feminine floral vibe. Like you, your ring will respect the past while also embracing your sparkling future.