Want to find the perfect diamond engagement ring to symbolize your love? First, you need to find the right jeweler.
You might be considering shopping for an engagement ring at Shane Co or Robbins Brothers or another jewelry store chain. Shane Co has 14 stores on the west coast and in the Midwest. Robbins Brothers has 15 stores in California, Arizona, Texas, and Washington state. If you live in Phoenix or Seattle you can shop both.
Is it better to buy an engagement ring at Shane Co or Robbins Brothers? Would you get a better deal on a better diamond if you bought an engagement ring from an online jeweler like RockHer instead? Here are five things to consider before you decide.
1. Buying a Loose Diamond is Better
No matter where you buy your diamond, the best way to get a beautiful diamond and a beautiful engagement ring setting is to buy them separately. Why? No matter what your budget is, when you shop for a loose diamond you can make sure that the diamond has the color and clarity you prefer and is also proportioned and cut beautifully to show the maximum light return and sparkle.
When you buy a loose diamond you'll also know its exact carat weight. Many complete engagement rings are sold with a "total carat weight" which includes side diamonds so you can't be sure exactly how much your center diamond weighs. FTC rules allow jewelers to use a range for diamond total carat weight, so you can't be sure exactly what you're getting. Your "one-carat" ring can actually be 0.95 carat.
Shane Co offers about 9,000 diamonds online but has a much more limited selection in store. Robbins Brothers doesn't list diamonds online so it's much more difficult to compare their entire selection. You are limited to the diamonds that the store has in stock.
Online jewelers have a much better selection. At RockHer we offer about 100,000 diamonds to choose from so you're much more likely to find exactly what you want: a beautiful diamond that's also a great value.
2. Don't Buy a Diamond Ring without a GIA Grading Report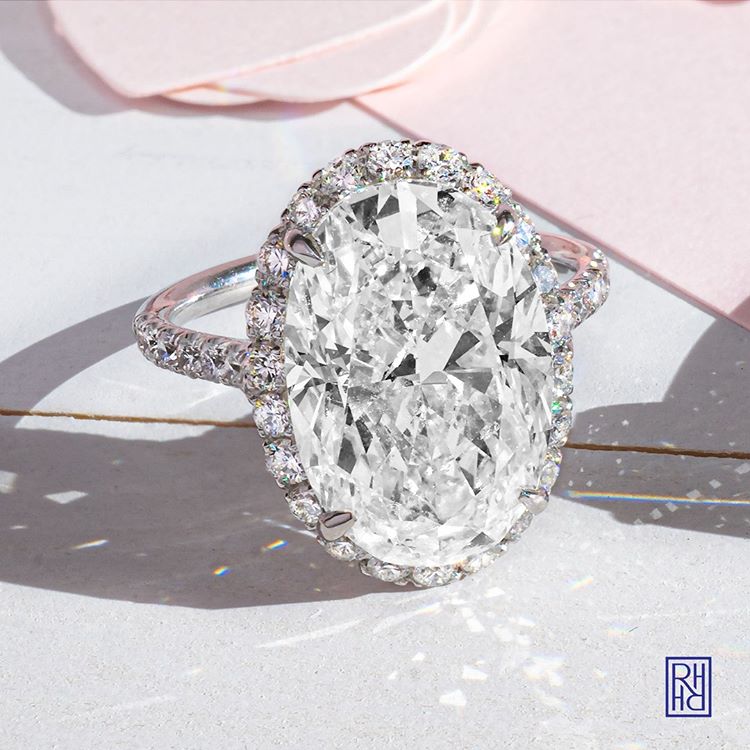 One of the most important drawbacks to buying at Shane Co and Robbins Bros is that not all the diamonds they sell come with an independent grading report from the Gemological Institute of America, the benchmark that diamond professionals trust for accurate diamond quality. Without a GIA report, you can't accurately compare quality. Diamonds with reports from other labs sell at a discount because jewelers and gemologists assume that their quality grades have been inflated. (The only exceptions are grading reports from the American Gem Society, which are as well respected as GIA and have more cut information.) Many of the diamonds Shane Co sells are graded by less well-respected labs like IGI and GSI or the store itself, which isn't an independent third party.
3. Chain Store Engagement Rings Are Made in Large Quantities Overseas
The engagement ring settings you find at Shane Co and Robbins Brothers come in limited ring sizes. Why? It's because they are made in large quantities overseas in one size. Shane Co and Robbins Brothers cut them and bend them to make them your size.
That isn't ideal. First, it means many styles can only go up or down one or two sizes without compromising the design. And it also means that the engagement ring will never be as strong and secure as it would be if it were never sized. If there are side diamonds or pave on the band, it might be loose in the setting and eventually pop out.
In contrast, RockHer makes engagement rings to order in your size, so you can order an engagement ring that fits you perfectly without being altered. It also means you can personalize your ring by making small changes to the design, like choosing a different color of gold or setting an emerald cut east-west instead of north-south at no extra charge.
If you are looking at engagement ring settings at Shane Co and Robbins Brothers, Robbins Brothers has a much larger selection, including a selection of unique branded styles. Robbins Brothers also sells a lot of lab-grown diamond rings.
4. Diamonds Prices are Lower Online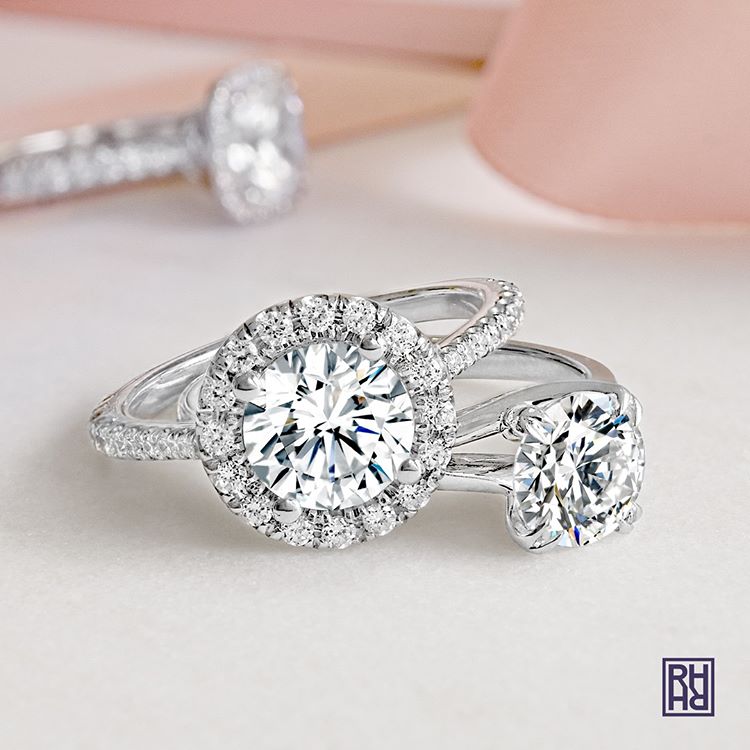 The number one reason why many people today choose to buy diamond engagement rings online instead of at Shane Co, Robbins Brothers or other chain jewelry stores is that the markups are much lower online. Chain stores have to have the same pricing online as in store so even their websites are more expensive than online-only jewelers like RockHer. Just pick any GIA certified diamond at Shane Co or Robbins Brothers search for the same diamond quality and size on RockHer. You can save 30-50% on the diamond (or find a much better diamond for the same price.)
It's easy to understand why prices at Shane Co and Robbins Brothers are so high. Rent, salaries, insurance and overhead for brick and mortar jewelry stores are much higher. And if the store is located in a mall, the retailer also has to pay the mall a percentage of sales too. All those expenses add up to higher prices. You can save hundreds of dollars (and probably thousands) by buying your engagement ring at online jewelers.
5. Artificial Intelligence Can Help You Buy Better Online
The only drawback to shopping for a diamond online is that the selection can be overwhelming. Online jewelers like Blue Nile outsource the expertise of picking a loose diamond to you. You are expected to do the research to educate yourself to be a diamond expert.
This is the main reason people are too intimidated to shop online and end up in a store like Shane Co or Robbins Brothers with fewer options and higher prices. They want expert recommendations. Unfortunately, what they find in the store is often pressure to buy, not unbiased advice. (Just try asking for a GIA-certified diamond at Shane Co and see what they say.)
RockHer is different than Blue Nile and other online jewelers because we built a diamond-picking artificial intelligence called ROSI using all the combined knowledge of scores of diamond experts. Using the power of IBM's Watson, ROSI can sift through the hundreds of thousands of loose diamonds on the market at any one time and find the most beautiful well-cut eye-clean diamonds in your budget.
It's not just an easier way to comb through the options and find the best choice, it's the best way to get the value of online diamond retail while making sure that you are buying the most beautiful diamond possible.
| | | | |
| --- | --- | --- | --- |
| | RockHer | Robbins Brothers | Shane Co |
| 100,000+ Diamonds | ✔ | ✗ | ✗ |
| A.I. Personal Ring Shopper | ✔ | ✗ | ✗ |
| U.S. Made Jewelry | ✔ | ✗ | ✗ |
| Made Specifically to Order | ✔ | ✗ | ✗ |
| Crafted in Your Size, Not Sized | ✔ | ✗ | ✗ |
| Responsible Center Diamonds | ✔ | ✔ | ✔ |
| Responsible Small Diamonds | ✔ | ✗ | ✗ |
| Recycled Precious Metals | ✔ | ✗ | ✗ |
| 30-Day Return Policy | ✔ | ✔ | ✔ |
| Low Markup | ✔ | ✗ | ✗ |
| All GIA/AGS Reports | ✔ | ✗ | ✗ |
| Lab-grown Diamonds | ✗ | ✔ | ✗ |