Valentine's Day is the perfect time to get engaged! We're busy crafting Valentine's Day engagement rings for all the proposals planned for the most romantic holiday. Is a big question in store for you this February 14? It's time to pick the ring. Don't worry, we've got you covered with all the advice you need to know about diamond rings for Valentine's Day.
The Diamond is in the Details
Buying the perfect diamond ring for a Valentine's Day proposal starts with choosing the right loose diamond. That's because when you buy a loose diamond instead of a diamond already set in a ring at a store you have much more choice: you can get exactly the shape, size and quality you want.
Buying the center diamond for your ring separately ensures that your diamond will be a great deal too. Online retailers like RockHer have more than 100,000 diamonds to choose from so you are able to find a great diamond at a great value.
To make sure that you know everything you need to know about a loose diamond, it's essential to choose a diamond with a grading report from the Gemological Institute of America, known as GIA. People call these GIA certified diamonds, and even though that term isn't really accurate, GIA diamond reports are the industry standard and you shouldn't even consider a diamond that doesn't have one.
Also, make sure you buy your loose diamond from a company that demonstrates a commitment to responsible sourcing. RockHer recently launched one of the world's first collections of traceable diamonds, with transparent information about where they have been mined and cut: the whole journey the diamond takes to your ring.
To make it easy to choose the best combination of the 4Cs of diamond quality, fluorescence, and all the other quality factors like the size and location of inclusions, RockHer created the world's first digital gemologist.
ROSI, RockHer's diamond picking artificial intelligence powered by IBM's Watson, automatically calculates and balances all the quality factors to find a diamond for your Valentine's Day engagement ring that's both exceptionally beautiful and a great value. Just give ROSI your budget and she will recommend the best diamond for you. You can also see ROSI's pick for diamond and setting combinations that fit your budget. (You can even use ROSI to compare diamonds from any retailer.) Basically the only thing ROSI can't do for you is come up with Valentine's Day proposal ideas.
5 Perfect Valentines Day Engagement Ring Styles
Now that you have the perfect diamond, you are ready to create the perfect diamond ring for Valentine's Day.
At RockHer, your Valentine's Day engagement ring will be made from scratch, either from an existing design tailored to your diamond or a completely unique custom engagement ring design. At RockHer, the skilled American goldsmiths and platinum smiths in our Los Angeles workshop use a combination of state-of-the-art CAD-CAM technology and old-world craftsmanship to create engagement rings from scratch to fit your diamond and your finger perfectly, tailoring every detail to make sure that all the diamond rings for Valentines Day we make this year and every year are the highest possible quality so they'll last generations.
Here are the top five styles of Valentine's Day engagement rings and all the latest trends we're seeing to inspire you to create your dream diamond ring.
Rock the Band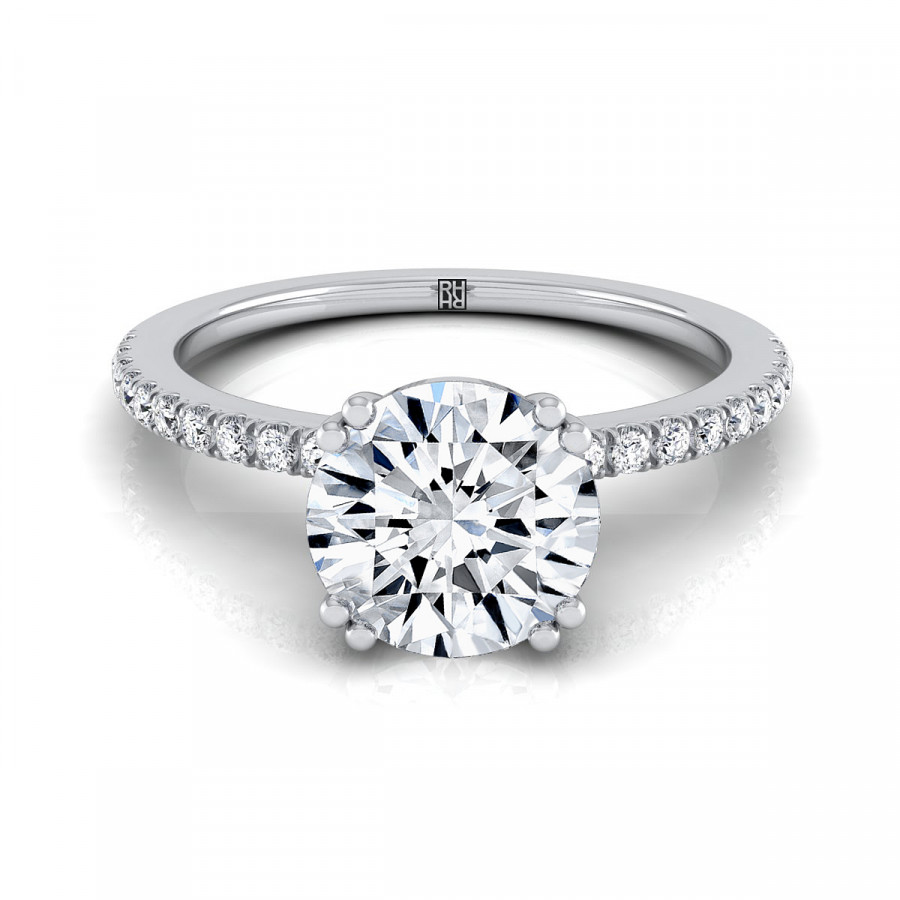 The top engagement ring trend of 2020 is the solitaire diamond ring with a slim diamond band. This trend is in the news because it seems like every engaged celebrity chooses an engagement ring with a diamond band. Karlie Kloss has a cushion-cut diamond ring with a diamond band. Hailey Baldwin's engagement ring from Justin Bieber is an oval shape diamond on a diamond band. Sophie Turner's ring from Joe Jonas has a pear-shaped diamond and Chrissy Teigen's from John Legend has a cushion cut. And let's not forget Blake Lively's engagement ring, which has a pink oval-cut diamond, and Kim Kardashian's massive cushion cut, both set on slim diamond bands. There are lots of reasons why this trend is so popular but we think its because it is timeless. And because the diamond band is slim and straight, it stacks well with other bands so you can easily add a wedding band (or two), anniversary band, or a band to celebrate the birth of a child.
When your engagement ring style is this simple every detail counts. Here are the tiny touches that will make your Valentines Day engagement ring really special. The prongs that hold the diamond are an important style detail. Consider double prongs, which have a subtle vintage vibe. Our customers love the Kelly Diamond Ring for Valentines Day, which is available with a round brilliant center diamond or your favorite fancy shape diamond.
Fresh Baguettes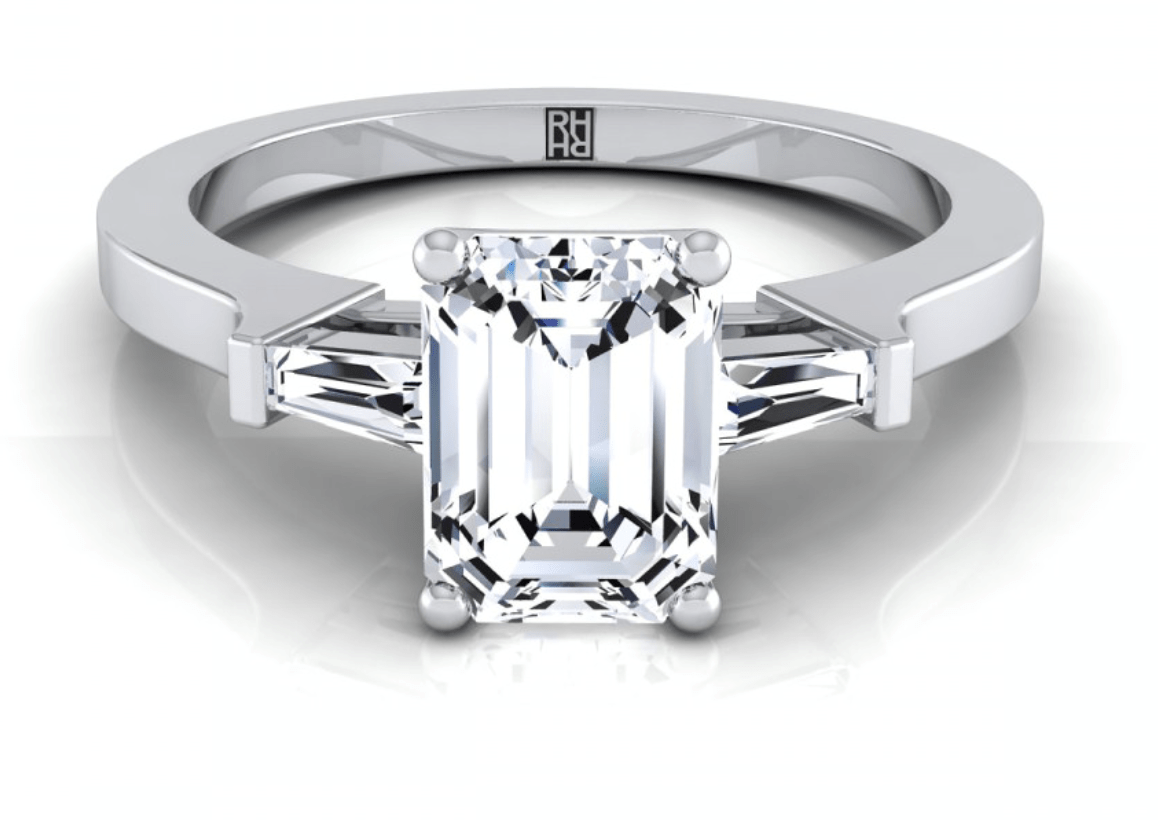 Another way to add brilliance to a simple solitaire is a three-stone Valentines Day engagement ring with tapered baguettes on the sides. This classic style has an Art Deco feeling. The baguettes cover the band of the ring with brilliance but the silhouette is still very streamlined. If you think you've seen this style a lot lately, you're right. The engagement ring that Alex Rodriguez gave Jennifer Lopez has tapered baguettes on the side. (And Amal Clooney, Jada Pinkett Smith, Miranda Kerr, and Alison Williams also have tapered baguette styles.) Tapered baguettes are very versatile: JLo's engagement ring has an emerald cut diamond and Alison William's is a round diamond. Either would make a lovely diamond ring for Valentines Day.
Oval Time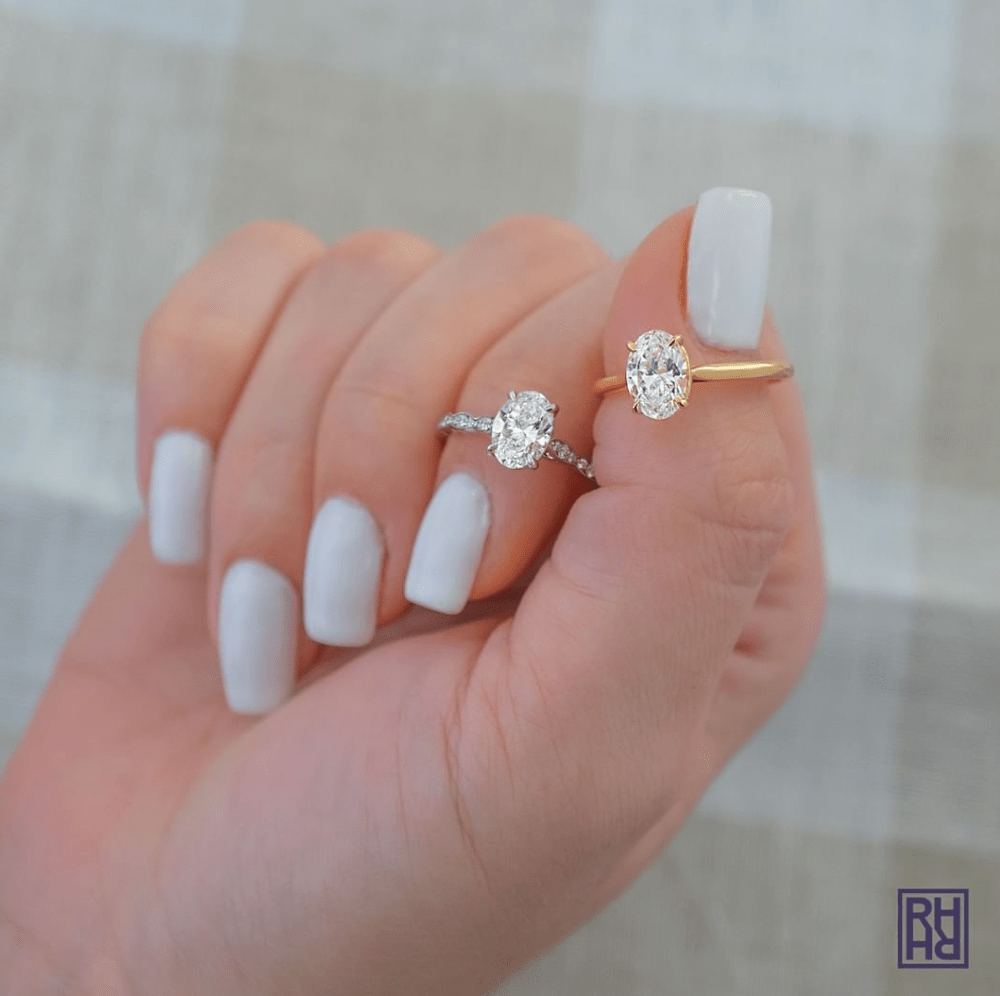 Fancy shaped diamonds are more popular than ever before. Most celebrity engagement rings feature huge fancy shaped diamonds but they are also beautiful in more normal sizes! Adding a fancy shape is the perfect way to make a classic style feel more individual, since each fancy shaped diamond is slightly different in proportions. Although cushion cut diamonds and pear shaped diamonds are becoming more popular, the fancy that our customers love best is the oval shaped diamond. The oval has the classic brilliant facet pattern of the round and its elongated shape is very flattering to the finger. Even better, the oval is slightly less deep than a round brilliant diamond. That means that it looks 20 percent larger than a round brilliant of the same carat weight. That means spectacular oval diamond engagement rings like Tinsley Mortimer's new diamond look even bigger than you'd expect. In diamonds, it's basically go big or go home.
Deserve a Halo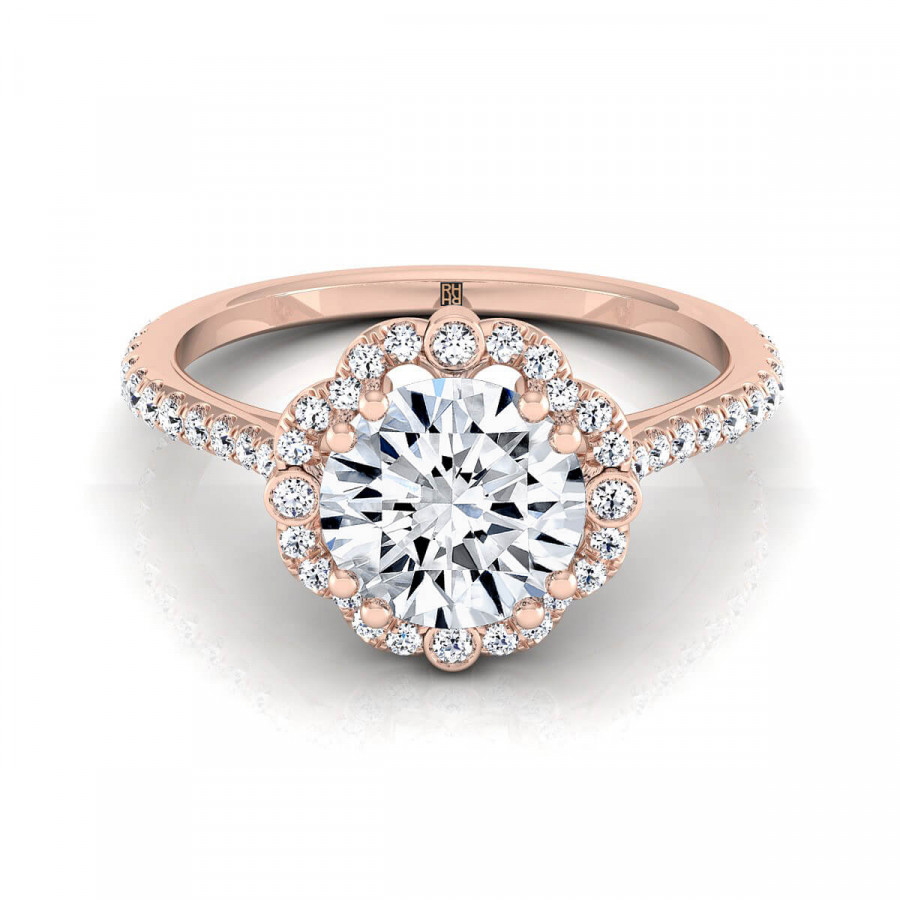 The halo engagement ring style has been the most popular diamond ring for Valentines Day proposals for a decade. Although other styles are starting to catch up, there are many good reasons why women love halo engagement rings so much. First, the small diamonds that encircle the center diamond in a halo style give an engagement ring a romantic vintage look. Halos also make your center diamond look much larger. Just take a look at the image below. See how the 2-carat diamond without a halo looks about the same size visually as the 1.25 carat diamond with a halo?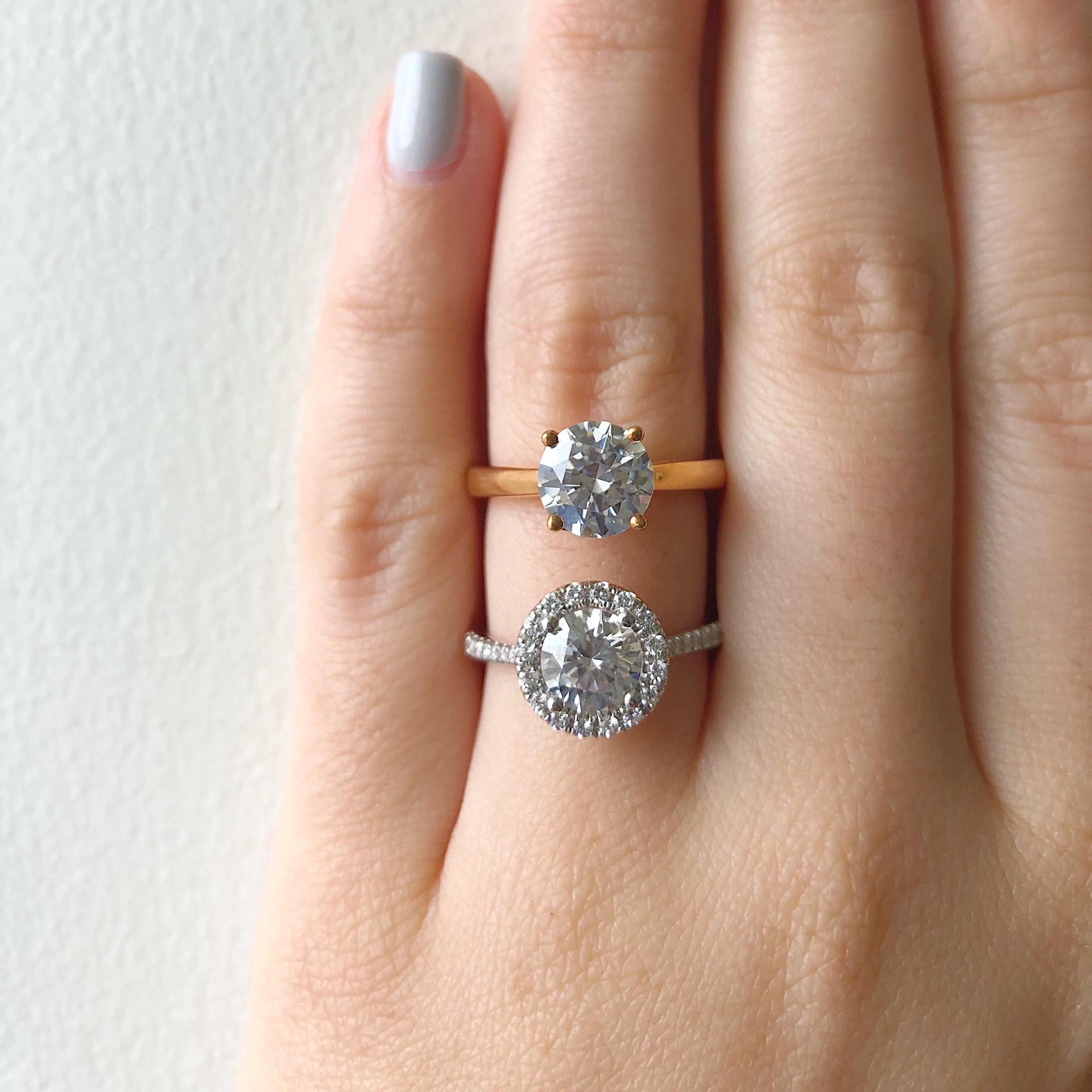 The halo is the perfect choice for people who like large diamonds (and isn't that basically everyone?) The other reason people love halo engagement rings is that they have a lot of style. That's why unusual halos are the fastest growing part of the category. We especially love the scalloped floral silhouette of the Florence Engagement Ring because it's so pretty and different.
The Ultimate Valentine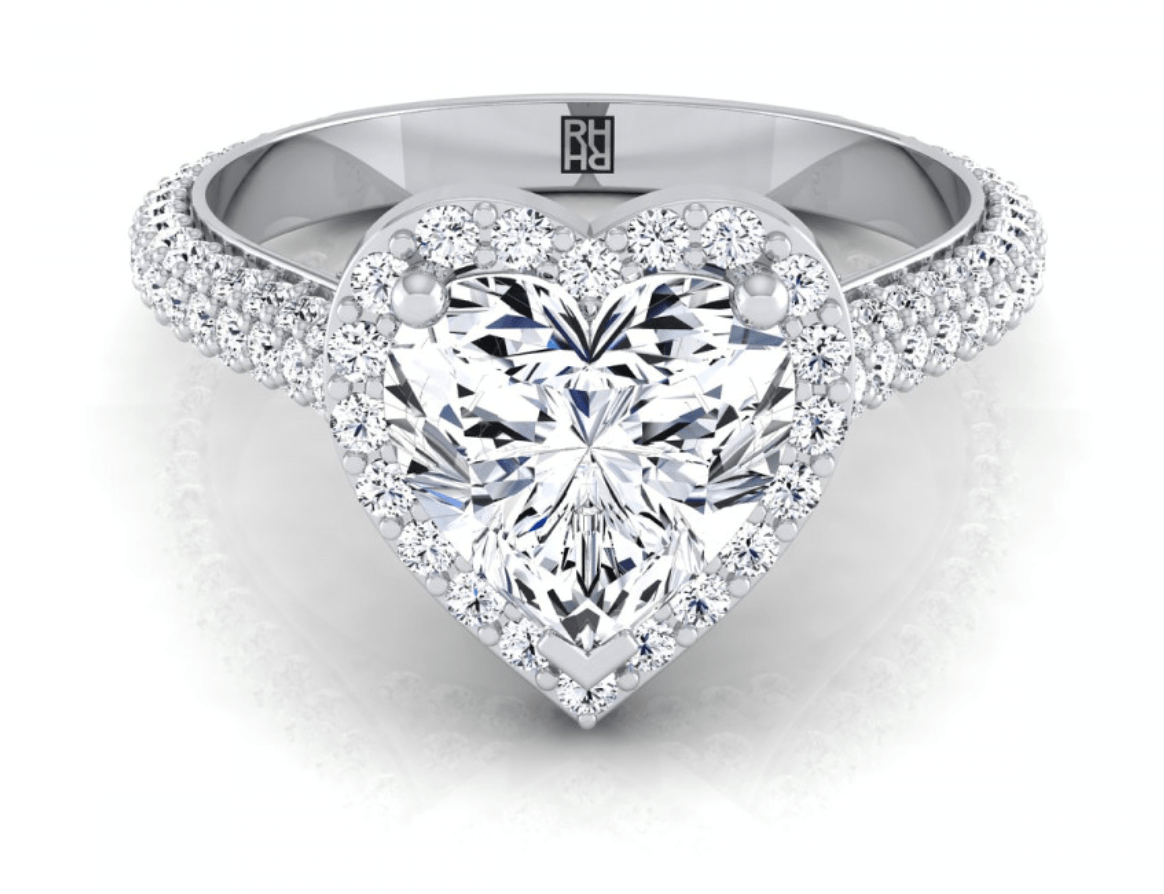 Do you want to give her your heart? We know exactly the Valentines Day engagement ring you need. We often recommend heart shaped diamond rings for Valentines Day because they remind you of this special moment forever. How could she ever forget the day of your proposal with a Valentine on her finger? Jewelry that tells a story is utterly romantic. And heart shaped diamond rings are the essence of romance too. Buying a heart shaped diamond can be a bit tricky because the heart silhouette can be too wide or too tall and the cleft can be too shallow or deep. Make sure you use ROSI to find the heart of your dreams. Then set it in a simple solitaire or, even better, in a beautifully crafted heart halo ring that RockHer makes to fit your diamond perfectly.
Want Her to Choose the Ring?
If you prefer not to decide on the design of the ring yourself, you have two options. First, you can propose with the loose diamond and design the ring afterwards together. Or, if you buy from RockHer, you can set the diamond in a solitaire setting and return it if she prefers another style. This has the advantage of preserving the element of surprise and avoiding the drawback of having no ring when you announce the engagement (and the first thing very single person she tells about the engagement will say is "Let me see the ring!" Engagement ring selfies are basically the standard engagement announcement today.)
There's one more option you may not have considered. Why not talk about the ring style and choose it together but still keep the proposal and the final ring a surprise? Honestly, she probably knows that a proposal is coming soon anyway. We think this is a great solution: you'll have to work a bit harder to make the proposal surprising but the engagement ring will be exactly what she wants, which is important too.