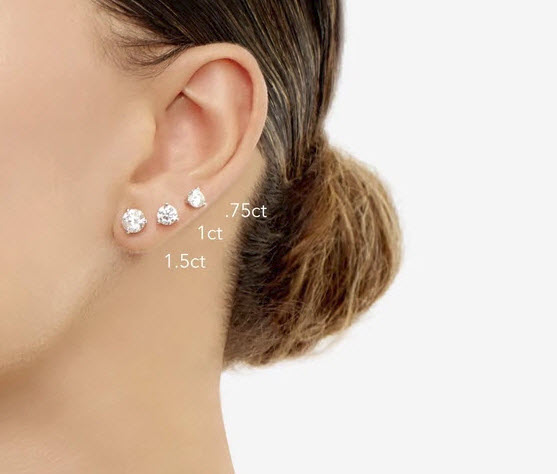 What makes diamond studs the world's most popular earring? Diamonds, of course! They light up your face with brilliance and sparkle.
This simply perfect earring first became popular in the nineteenth century and is still going strong today. Perfect with a casual outfit in the park or a couture gown on the red carpet, diamond stud earrings are the cornerstone of every woman's jewelry wardrobe. Some women never take them off: seriously, they're that good.
If you are looking to buy a gift for someone who doesn't own a pair, you can't go wrong with diamond studs if an engagement ring isn't relevant :). They are an everyday classic you can wear for the rest of your life, so you want to pick the perfect pair. Here is a complete guide on how to buy diamond stud earrings.
1. Set Your Budget
Whether you are buying diamond stud earrings for yourself or as a gift, they are a once-in-a-lifetime purchase. That means they better be good! Our customers often buy diamond stud earrings to celebrate Valentine's Day, a promotion, an anniversary, the birth of a child, or as the foundation of a real jewelry wardrobe.
Studs are a traditional gift to the bride to wear on her wedding day: unlike the dress, she can continue to wear them as a continuing reminder of the happiness of the occasion. Meghan Markle wore diamond studs at her wedding and is spotted wearing them regularly ever since. Because they are a lasting purchase, our customers usually set a budget in the thousands rather than hundreds (but if you are looking for petite studs even fine quality will be less.)
2. Pick a Shape and Size
What size earring do you want? The most popular size is one-carat total weight diamond stud earrings, which have a half-carat diamond set in each earring, not one carat for each earring. This is called a "total carat weight" of one carat and most jewelers will describe studs this way: it includes all the diamonds in the earrings, not just the center stones.
How big is that? To put it in perspective, a one-half carat diamond is 5mm in diameter and a one-carat diamond is about 6.4 mm in diameter. Is bigger better in studs? Not always. Be aware that large diamond studs do protrude out from the ear quite a bit, so make sure the setting has a nice profile.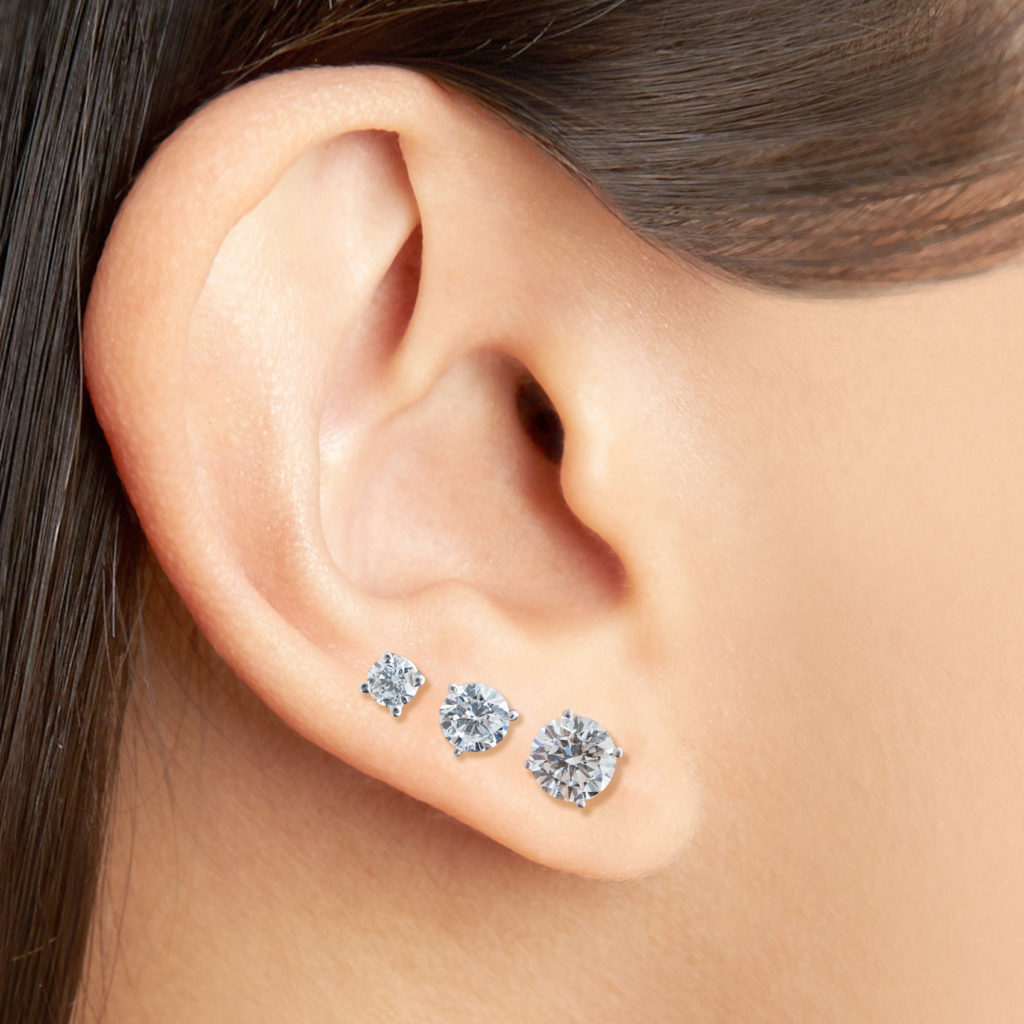 Recently, we've seen an increase in the popularity of smaller diamond studs that layer beautifully with other earrings and ear cuffs. These are often one-half carat total weight or even one-quarter carat total weight.

The most popular diamond shapes for stud earrings are round and princess cut. You can commission studs in any shape, of course, but remember that studs can rotate as you wear them so pick a shape that you like sideways as much as you do straight up and down.
3. Quality Matters
Many people will tell you that diamond quality doesn't matter for earrings, that you can get away with a slightly yellow diamond with visible inclusions. The assumption here is that no one will be looking that closely at your ears. But we feel better buying higher quality diamonds for something that will be passed down for generations as an heirloom and that never goes out of style. We recommend H-I color and VS2 or SI clarity, the same quality we recommend for engagement rings.
And make sure that your diamonds are sourced responsibly by buying from a vendor who can trace the origin of the diamonds and precious metal used to craft your earrings. At RockHer we buy directly from De Beers sightholders with full Kimberly process documentation and use only recycled precious metals. Our settings are crafted in our Los Angeles workshop not mass-produced in an overseas factory.
The two diamonds of a pair of stud earrings should be matched. Sadly, those automated tools that pick two diamonds from a database simply won't do. They don't adequately assess the patterns of a diamond's cut. You need a real human to look at the diamonds side-by-side.
That's why at RockHer we hand-match stud earring pairs for our customers, combing through parcel after parcel to find twin diamonds that not only match in size, color and clarity but also in brilliance and sparkle patterns. Our gemologists are fanatical about creating the perfect match every time. It makes it easier that we only select well-cut diamonds, which are more consistent and easier to match. Because our trained gemologists are grading and hand-selecting every diamond for our stud earrings, the quality is so consistent that we don't certify the diamonds unless requested (which will add about $200 to the cost of the earrings.)
4. Style the Setting
Diamond studs are simple, yes, but the details matter. Add your own twist to the classic silhouette by choosing exactly what you want. You can echo details of your engagement ring setting when choosing a setting style and precious metal.
At RockHer we make round diamond stud-settings with three prongs to eight and everything in between. A classic three-prong martini setting lets the most light into the gem. A four prong looks a bit more substantial. A six-prong surrounds the diamond with a corona of prongs. A double-prong setting adds a sophisticated style to a simple solitaire. Which one do you prefer?
If you'd rather have a more modern look, we also make diamond stud earrings with bezels in all metals, which have a more sleek style.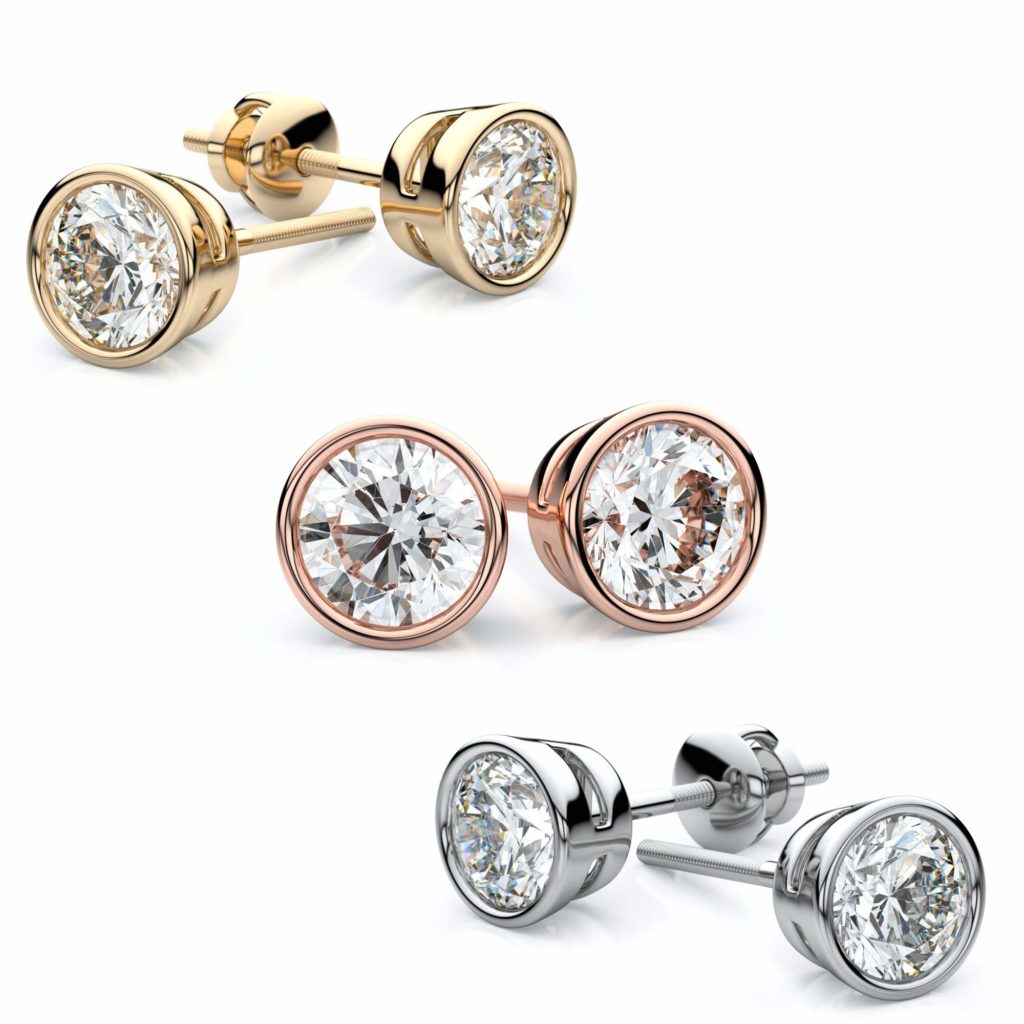 Your choice of metal depends on a few factors. First, would you like to match the color of an engagement ring, wedding band or other pieces of jewelry that you wear often? If you wear a lot of different metals, white gold is a good choice because it blends into the diamond. If you are sensitive to metals, platinum is a good choice: it's hypoallergenic and unlikely to cause an allergic reaction no matter how long you wear it. Platinum is heavy and not often recommended for earrings as a result but diamond studs have so little metal that platinum isn't noticeably heavier than gold.
5. Back It Up
The most overlooked part of buying diamond stud earrings is one that you don't see when you wear it: the earring back. Have you ever lost an earring? Earrings are the most commonly lost jewelry, a loss made even sadder since the remaining earring stays alone in your jewelry box to remind you.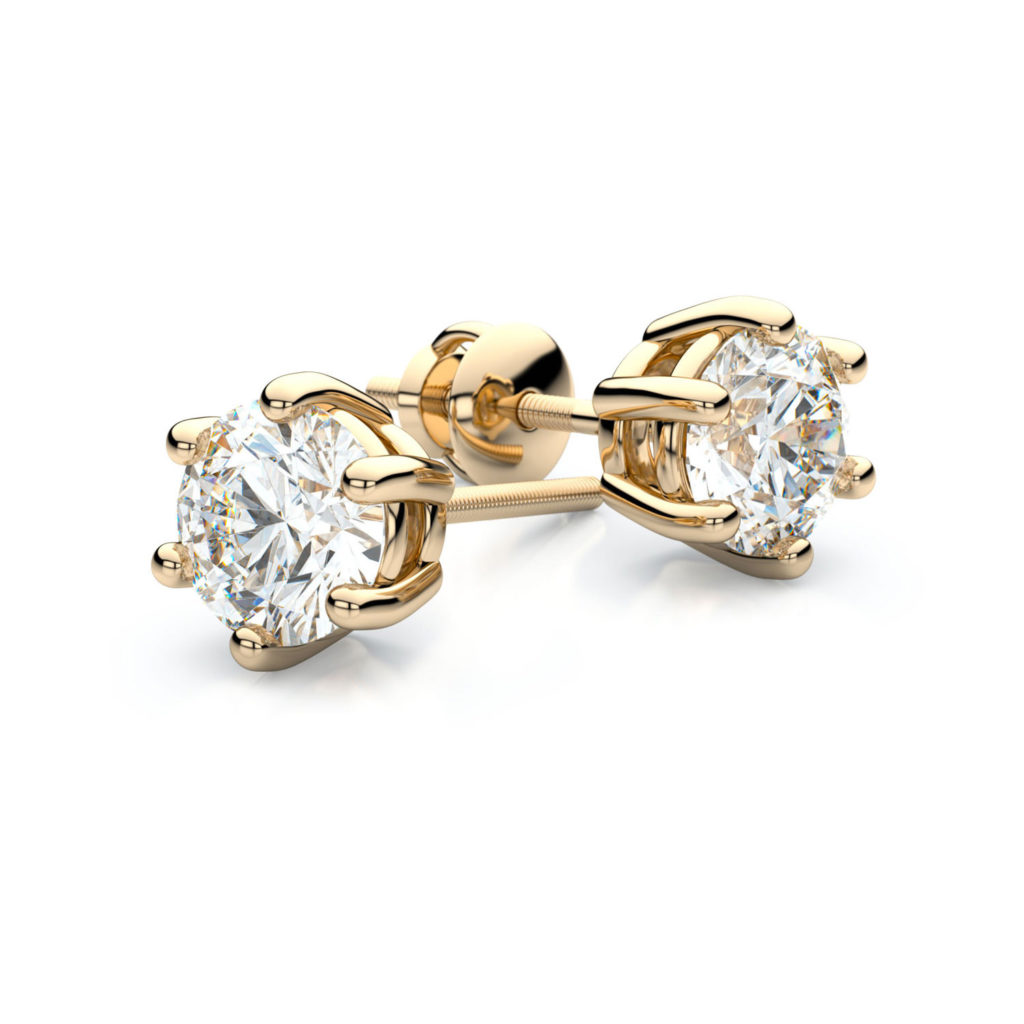 The possibility that you might lose your diamond studs means that your choice of earring back is very important. At RockHer, we recommend screw backs, which are the most secure kind of earring back. Butterfly backs loosen over time and become gradually less secure. Screwing on a back takes a bit more time but keeps your diamond stud firmly on your ear so we think it's worth it.
They also stay snug, which prevents your earring from drooping on your ear, even if you add a drop or jacket to your stud in the future.
We want to make sure that once you finally have the perfect diamond stud earrings you keep them safe. Your children and grandchildren will appreciate it too!