Where did your diamond come from? And who shaped it to unlock its brilliance? What steps did your diamond take to reach the beautiful ring on your finger?
At RockHer we always make sure that the diamonds we sell have been responsibly sourced, from the center diamonds in our engagement rings to the small diamonds in our wedding bands.
We even partnered with Lipari, which operates the Braúna mine in Brazil, a showcase for responsible mining principles, to provide traceable small diamonds. We are proud to uphold the highest standards in the industry for responsible sourcing.
But we've always wanted to do more to make our diamond sourcing even more transparent. Now we have taken the next step: we're excited to announce that we can now trace each step of an individual diamond's journey and give you that information for specific diamonds so you can know their whole stories before you buy.
We're starting with a great selection of diamonds in popular engagement sizes and qualities. These documented diamonds will have information about every step of their journey from the source country through the cutting process live on our website. You'll be able to trace your diamond from rough crystal to polished gem at a glance.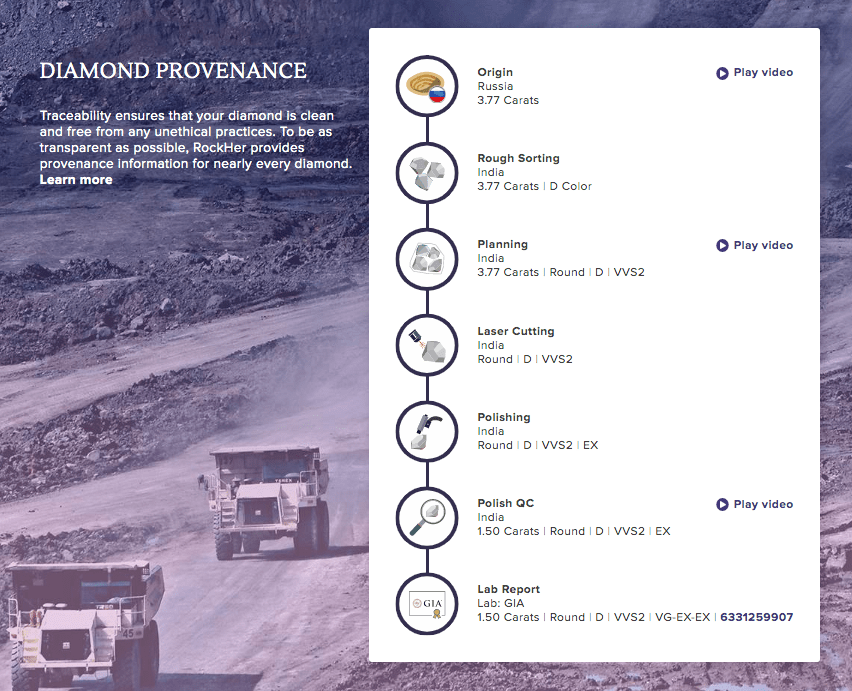 The documentation includes the original weight and origin of the diamond rough, the sorter and the initial color grade, the diamond architect and the cutting plan, the laser sawing details and the resulting weight, the faceter, the final polisher, and the results of the final diamond grade from the Gemological Institute of America.
When you shop for RockHer Documented Diamonds you'll now have the best possible assurance that your diamond has been responsibly sourced.
We plan to expand this supply chain documentation to all the diamonds we offer as soon as we can. And we are working in the industry to encourage every diamond supplier to do the same. It's our dream that every diamond on earth will someday be transparently sourced, no matter who sells it.