The diamond eternity ring is a sparkling celebration of forever, with diamonds in an endless circle around the finger, symbolizing never-ending love. There are many names for this circle of diamonds: eternity ring, eternity band, infinity ring, celebration ring, diamond wedding ring, and full diamond band.
The idea of the eternity ring dates back almost 4,000 years to Ancient Egypt. While the Egyptians didn't give eternity diamond rings as wedding rings or wedding anniversary rings, even then these perfect rings, some with a motif of a snake biting its tail, were symbols of eternal love and life.
Because there are many times when people want to celebrate never-ending love there are many occasions for the gift of a diamond eternity ring.
Most of the eternity rings we craft at RockHer mark one of three occasions. Eternity bands often become eternity wedding rings. The endless circle of diamonds is the perfect symbol for wedding vows. Eternity rings also are often wedding anniversary rings, given to celebrate a milestone like the first anniversary, fifth anniversary, tenth anniversary and 20th anniversary. And diamond eternity rings are a popular way to mark the birth of a child and the endless circle of life.
Whatever the reason for the celebration, an eternity ring is often the second most important fine jewelry purchase a couple makes after the engagement ring, and it isn't uncommon for the eternity ring budget to be similar in size to the engagement ring. (In fact, many couples choose an eternity ring as the engagement ring.)
Buying an eternity ring is a little bit more difficult than engagement ring shopping because there are additional quality parameters to consider. The small diamonds in an eternity ring rarely have GIA grading reports like you expect for a center stone since that would add too much to the overall cost of the diamond ring. That means the jewelry store or online retailer where you buy your ring is even more important.
Here are eleven important questions to ask to make sure you choose the right diamond eternity ring and the right jeweler to craft it.
1. How Much Do Eternity Rings Cost?
First, set a price range for your eternity band purchase. You may have to adjust it up or down once you start to see the options but it will help you to focus and may influence your choices of diamond size, diamond quality, and setting metal. Your price range is entirely personal preference. Most couples spend around 50 to 100 percent of the cost of their diamond engagement ring on an eternity ring. You can see why when you see the brilliance of a one-of-a-kind eternity ring.
2. What's Best: a Full Eternity Ring or Half Eternity Ring or ¾ Eternity Ring?
The symbol of the eternity ring lies in the unbroken circle of diamonds. But some couples decide instead to choose a half-eternity ring design that has diamonds only halfway around the finger or a three-quarters eternity ring that has diamonds ¾ of the way around your finger.
These partial eternity diamond rings have metal in the back so they can be sized. A compromise like this is a good choice if your finger size fluctuates or will fluctuate in the future, since the ring size of an eternity ring can't really be adjusted. It also makes it easier to pass the eternity ring down to another family member who may have a different finger size. And of course, fewer diamonds means that the price range for a half eternity is much lower so you can afford to have larger higher quality diamonds.
However, a half eternity ring isn't a good choice if your rings tend to spin on your finger since you will often look down and see metal, not diamonds. Having your diamonds "off-center" in a half eternity ring may drive you crazy if you are a person who likes order. You'll often read that half-eternity rings and ¾ eternity bands are better for those who are active or work with their hands but since rings tend to spin, any ring will be an issue in the gym or the garden.
3. On Which Finger Do You Wear an Eternity Band?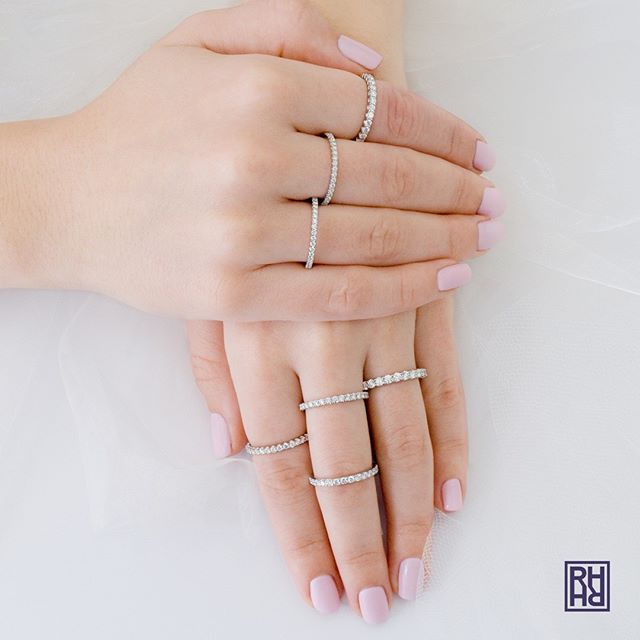 The short answer is any finger you want! But it is good to think about where you will wear your eternity ring because it will help you choose the setting style. If you are planning to wear your eternity ring on your left-hand ring finger next to your engagement ring and wedding ring, you will want a ring style that complements those rings and also rests well against them. Generally, if you are stacking the three diamond rings, the wedding band is at the bottom, the engagement ring next, then the eternity ring on the other side of the engagement ring. Of course, you can change the order as desired. If you are planning to wear your eternity ring on your right hand, you may want to choose a more substantial size ring.
4. What Eternity Ring Setting Style is Best?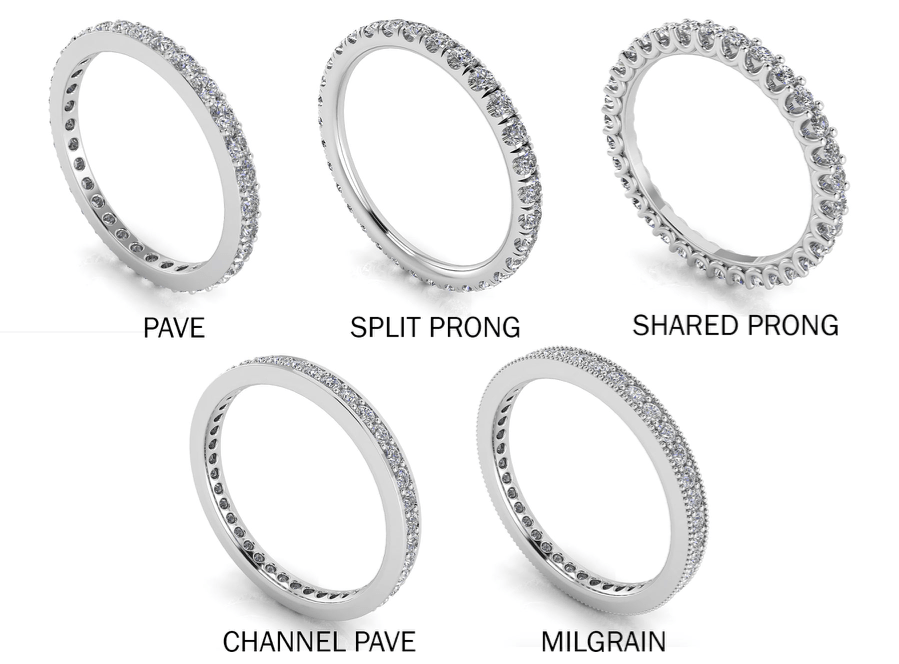 There's a wide variety of options for eternity ring styles. The most common is a pave eternity ring setting, which is most often used for delicate eternity rings that match an engagement ring. In this ring setting, which is most often used for small diamonds, the diamond is set into the metal and prongs are pushed over the stone from the sides.
A split prong eternity ring setting has four separate prongs that branch from the base of the ring to grasp each diamond. It lets more light in than the pave setting, resulting in more sparkle.
Shared prong eternity rings, also sometimes called U-shape eternity bands, have prongs that are shared between two diamonds, scooped out to allow lots of light to enter from the side of each diamond.
If you prefer more metal around each stone, in channel set eternity bands, the diamonds are held in a channel between bars of metal that go around the ring finger. The gems can be held in place from behind or have small pave prongs in front. Although the extra metal protects the diamonds it also blocks some light. In bezel set eternity bands, each diamond is held in an individual metal frame, giving the ring a sleek modern look and also protecting the stone.
5. What Shape Diamond is Best for an Eternity Ring?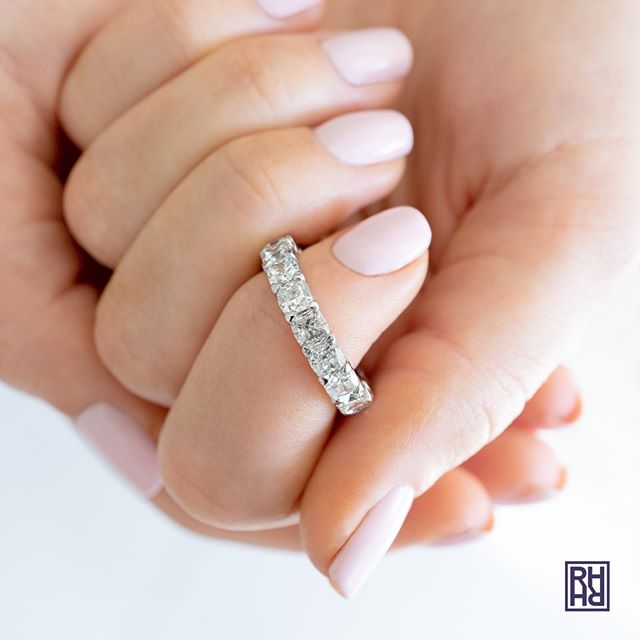 Although round diamonds are the most popular choice for eternity bands, other diamond shapes can be quite beautiful also. In particular, princess cut eternity bands, Asscher cut eternity bands, radiant cut eternity bands, baguette diamond eternity bands and emerald cut eternity bands are very striking since the straight sides of each diamond can be set side by side resulting in a solid wall of brilliance around the finger. Other shapes that make lovely eternity bands are oval shape diamonds and marquise cut diamonds. Either can be set north south or east-west. You can also combine shapes making a pattern.
6. What Size Diamonds are Best for an Eternity Ring?
How big should the diamonds in an eternity ring be? If you are stacking your eternity band, you usually will choose a diamond size that complements the other rings on that finger. It's usually more helpful to think about the width of the band in mm rather than the carat weight of each diamond. The thinnest eternity bands will be about 1.4mm wide. A substantial eternity band will be 3mm or wider. Remember, the larger the diamonds in your band, the taller the band will be and the more you will feel it between your fingers, since the diamonds are on the side as well as in front and back. The diamonds usually range from .05 carats each to 0.20 carats each. An eternity band can be less than a carat total weight to seven carats total weight or even more. The larger the diamonds, the fewer of them you need to go around your finger.
7. What's Your Ring Size?
At RockHer we custom craft every eternity bands to order to precisely fit your finger since they can't be sized. That means that you need to know your ring size before you buy your eternity ring. If you plan to stack your ring, make sure the size you choose is comfortable worn in your preferred stacking position: often a band worn higher on the finger will need to be a quarter-size or a half size larger. Wider bands may also be more comfortable in a slightly larger size.
The other reason why the finger size is so crucial is that the diamonds will be spaced out to fit evenly around your finger. The number of diamonds and total carat weight of your eternity ring depends on the ring size. A size 7 ring will have more diamonds than a size 5. That's why at RockHer we price all our eternity rings according to the finger size. Any jeweler that doesn't price smaller and larger sizes of eternity rings differently is profiting a little more on small sizes and less on large sizes, which might be great if you are size 9 but not great if you are size 3.
Because sizing is difficult, be sure to check the return policy. Some jewelry stores don't accept returns of eternity rings since they are made to order.
8. What Diamond Quality is Best for an Eternity Ring?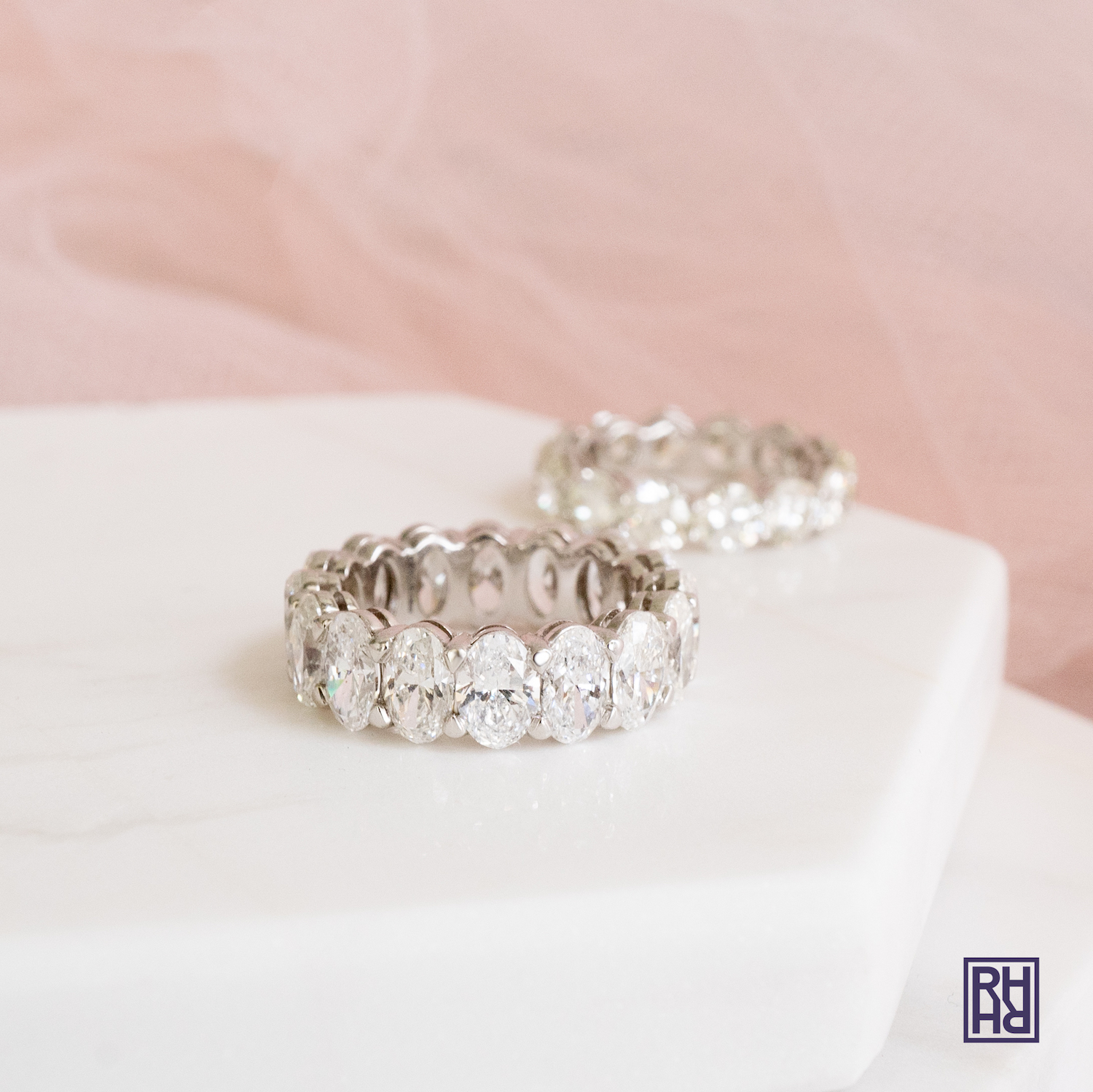 What diamond quality should you select for the diamonds in an eternity ring? At RockHer we offer four different diamond qualities. If the eternity ring will be worn next to an engagement ring or wedding band, the 4Cs should be similar. You'll also want to choose more colorless diamonds, a G or H color grade if you are setting your eternity ring in platinum or white gold than yellow or rose gold.
But the most important diamond quality factor is that the diamonds in eternity bands should match, not only in color and clarity but in cut and overall appearance. Our gemologists spend a lot of time matching diamonds to create perfectly matched eternity rings. It's part of the seamless endless circle effect: you want to make sure none of the diamonds are dark or too shallow so they look out of place in the circle.
9. Are the Diamonds Responsibly Sourced?
The way the diamonds are sourced for your eternity ring is as important as the diamond in your engagement ring. But many vendors only trace the center diamond in the rings they sell, not the smaller diamonds. At RockHer we trace the small diamonds we sell too. When we make your eternity band to order we carefully select matching diamonds from our sister company of Lipari, which operates the largest diamond mine in South America, the Braúna mine in Brazil. We are proud to support the mine's efforts to benefit its community and provide jobs, economic security, and productively reclaimed land for the people of Nordestina in Brazil.
10. What is the Best Metal for an Eternity Ring?
When it comes to the metal for your eternity band, you should only consider precious metals. Sterling silver isn't strong enough to stand up to the wear an eternity band receives. Platinum or gold are the best choices. Platinum is very strong, even in thin wires so it holds stones in place very securely. Gold is also very durable, with white gold, yellow gold and rose gold providing color options to complement the other rings you wear every day. The best metal choice for an important eternity band is platinum since it will blend in with the diamonds in a seamless way and keep your diamonds safe. Make sure that you ask about the sourcing of the metal for your ring. At RockHer all our platinum and gold is recycled.
11. Are the Diamonds Secure?
When you finally receive your diamond eternity ring, there is one more critical step to take before your put it on. Lightly tap on each stone with your fingernail to make sure that it doesn't move in its setting. Each month when you clean your ring, checking the stones to make sure they haven't come loose in their settings will make sure that you never lose a diamond. Repeat this process every year to make sure that your eternity ring will last forever.