Pave diamond rings are all the rage in the engagement ring market these days. It actually got its name from the French word pavé, and hence, this type of ring features a high impact design that contains a surface paved with diamonds. They also emit continuous span of sparkle and light.
In the pave setting, small gemstones are set into the tiny grooves made on the metal, secured by means of mini prongs. Usually, people consider delicate pave diamond rings in order to offer an elegant appeal. However, wide pave diamond band rings are also in vogue now, so brides can choose them as well to stand out from the crowd.
Ideally, a wide band ring will have a thickness of 2.3 mm and more. This type of ring will be perfect for someone who loves to flaunt a bulkier ring that exhibits a great shine on their finger. In fact, wide pave diamond band rings are more useful for people who involve in a lot of hands-on activities such as gardening, workouts, adventurous sports, etc. This is because of the supreme security offered by this type of rings, as well as the fact that there are more metal settings to hold each gemstone in place.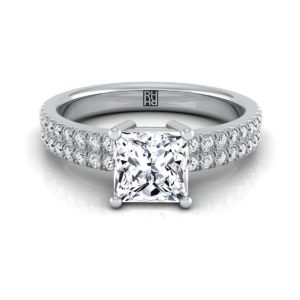 Additionally, because of the shank thickness, each and every gemstone on your ring will be visible enough to draw the attention of people instantly towards it.