Diamonds go well with almost all metal types like yellow gold, white gold, rose gold, platinum, etc. Among these, gold metal is a timeless and a highly popular choice in jewelry. When it comes to rings, its beauty is completely irresistible due to the classic beauty of yellow gold and stunning brilliance of diamonds. No wonder, brides prefer gold diamond engagement ring these days.
Gold and diamond combo are widely used not just in rings, but also in many other jewelries. This is because the versatile combination will be apt for casual, trendy, as well as for formal outfits. Although a gold and diamond pair will look good with any kind of outfit color, you should try wearing a black dress for a timeless vintage look. For special occasions, you can opt for extravagant adornments.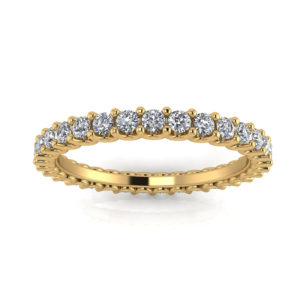 Yet another feature is the neutrality of gold and diamonds. Due to their neutrality, neither diamonds nor gold will clash with any color. Therefore, you can pair your gold diamond engagement ring with a colored gemstone ring featuring an emerald or a sapphire to get a stunning look. Furthermore, you can give a pop of color to your gold diamond ring by adding colored gemstone or diamond accents to it.