As its name implies, the gemstone with baguette cut has an elongated as well as slender shape.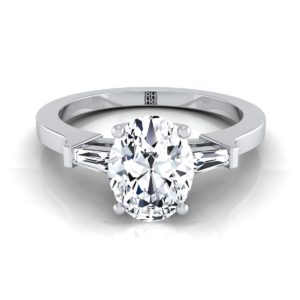 Art Deco diamond rings, which reflects the jewelry trend tracing back to the 1920's and 1930's, has clean lines and geometric patterns that went on to set the trend for years to come. The streamlined, geometric shape of a baguette cut diamond seamlessly fits into Art Deco rings. Such vintage-inspired diamond rings with baguette cut are trendy and popular among modern brides.
Rings with baguette diamonds offer a unique look, exceptional clarity, and distinct beauty. The baguette cut, which comes under the diamonds that are step cut, are found in rectangular or square shapes, with facets that are of rectilinear form. The long and narrow facets of baguette diamonds offer a prismatic reflection, which evokes a hall of mirrors, rather than the brilliance of the gemstone.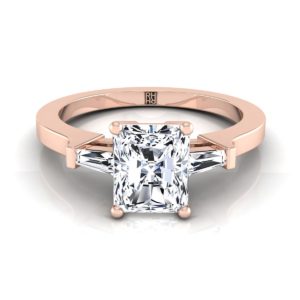 The number of facets on baguette cut diamonds amounts up to 14, while emerald cut diamonds usually have 50 to 58 facets. While emerald cut diamonds often feature as the center stone on engagement rings, the beauty of a colored gemstone is accentuated by the side stones on the rings with baguette diamonds. This is not to say that baguette cut centerpiece diamonds cannot be found on engagement rings.