An engagement ring you select should reflect your own style.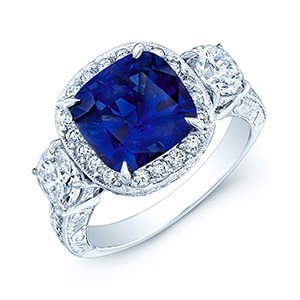 A three stone ring is a style that comprises three gemstones – one in the center and two in its either side. Usually, a trinity diamond engagement ring has a larger center stone and two smaller gems. The gem in the center or the larger one represents the present, while the others represent the past, present, and future of a relationship. The three gemstones could also symbolize friendship, fidelity, and love.
Featuring a series of round pave or micro pave diamonds encircling the center stone, a halo set engagement ring is a subtle style that has been popular for quite some time. The smaller gemstones of a halo ring draw the attention to its centerpiece gem, making it appear larger. Details such as rows of pave diamonds and the use of mixed metal bands make them more special too.
Shimmering Emerald Shaped Diamonds
With its symmetry and clean lines, an emerald cut ring initially gained
popularity during the 1920's period. You can find vintage-inspired settings too. The diamond cut is a favorite among contemporary people who fancy the geometric gemstone for its modern appeal.