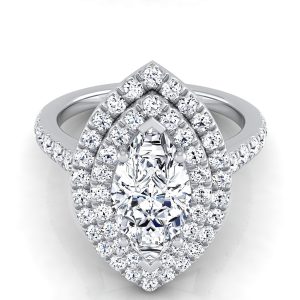 The elongated shape with its pointed edges requires a setting that can offer it most protection without compromising on its beauty. The best ring settings for a marquise diamond ring are:
Prong Settings – A marquise diamond ring will look well when set in a prong setting. There are 4 or 6 prong settings that latch onto the sides of the center stone and holds it firmly on the mounting. It offers good protection at the tips, especially in V-tipped variations. A clear advantage of prong setting is that it lets in more light that contributes to the sparkle of the ring.
Bezel Settings – A bezel setting can enclose the marquise diamond fully giving it maximum protection. It gives the ring a classic look that will pair easily with the style preferences of any individual. The bezel can offer complete protection to the stone, making it shielded from direct impact or chipping during everyday wear.
Halo Settings – Small diamonds that surround the center diamond in the form of
a halo is yet another ideal setting for a marquise diamond ring. These diamonds can adorn the marquise diamond giving it added sparkle. Besides, a halo setting can also provide adequate protection to the marquise diamond from impacts or accidental drops.