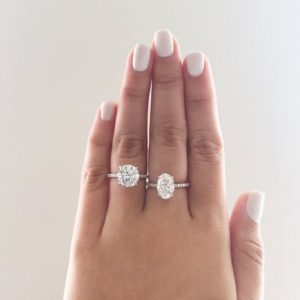 A diamond encrusted band ring for an engagement or wedding is important for every couple. Hence, people always try their best to choose a unique and meaningful diamond ring to mark the important milestones of their relationship.
Most people may find a diamond engagement ring and wedding ring similar, but there are many notable differences between the two. In order to get a better understanding, it will be ideal to do a diamond ring comparison.
Number of Diamonds
Traditionally, there will be a single diamond in a diamond encrusted band ring for an engagement in order to symbolize that a woman is engaged. When it comes to wedding rings, it will be usually a pave diamond ring band so as to complement an extravagant diamond ring.
Size
The size does not really matter while choosing a diamond engagement ring or a wedding ring these days. However, the size of the former will be usually bigger when compared to the latter one in classic designs. In fact, most people choose a simple wedding band in order to balance their luxurious engagement rings.
Importance
Both engagement and wedding rings are equally important. The former one promises to get married, whereas the latter one solidifies that promise and marks the beginning of a new life. However, a diamond encrusted band ring for an engagement will not be quite as important after the wedding. In fact, it is up to the bride whether or not to wear an engagement ring after marriage.