Nowadays, cubic zirconia rings are in great vogue, and are considered one of the best alternatives to diamond engagement rings. However, there are certain facts that make a CZ ring a not-so-worthy option for engagement. The main difference between cubic zirconia and diamond engagement rings is in monetary value. In this case, the former is relatively cheap, which also means it cannot be considered as an investment.
Diamonds, on the other hand, are a worthy option, and can be considered as solid investments. You can use a diamond ring for a lifetime, and can even pass on to generations as an heirloom. All the while, its value steadily goes nowhere but up.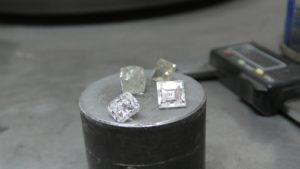 Another notable difference between Cubic zirconia and diamond engagement rings is when it comes to the prestige they bring. Cubic zirconia offers almost the same appeal as that of a diamond, making them really hard for people to distinguish from the real thing. Still, once you tell someone what it is, you no longer have the same respect as the owner of a genuine diamond. This is mainly because of the marketing strategies associated with diamonds. Additionally, there are hardly be any bride who prefers flaunting something man-made on her special day.