One of the popular metal choices that are raging in the diamond ring field is black tungsten.
The main advantage of black tungsten diamond rings is their resistance to scratches and chippings. In fact, tungsten carbide is the best scratch resistible metal in the world. Plus, tungsten carbide diamond rings are so lightweight that people in any profession can easily carry it with style.
Just like the 4 C's of diamonds, there are 3 C's for black tungsten diamond rings – they stand for comfort, content, and craftsmanship. The comfort of wearing your ring actually depends on the thickness, weight, and the width of the tungsten diamond ring band. Note that the maximum thickness of your diamond tungsten rings should be 2.3 mm so that it stays in the comfort fit range.
The content of black tungsten diamond rings depends on the percentage of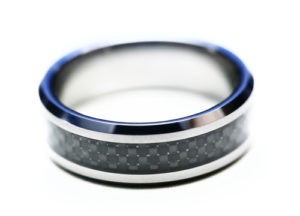 tungsten carbide present in the metal. It is to be noted that standard quality tungsten carbide rings will have 85% of pure tungsten carbide in its metal constitution. When it comes to craftsmanship, it is mainly about the symmetry of the diamond ring designs and its finish.