The emerald diamond accents complement distinct types of center stones set in a ring band, whether they are diamonds or other gemstones. For instance, you can find a sapphire ring with emerald diamonds set in an array of vintage-inspired styles.
Emerald diamonds are most popularly used particularly in three stone and side stone settings. A gem with emerald cut is a perfect accent owing to its big table size and alluring symmetry. Classic in look, emerald diamonds in smaller carat weights can be arranged in a row perfectly along the ring band. Besides, their step cut gives a contrast to cushion and round cut diamonds.
These days, you can find an emerald diamond with tapered or straight edges as well. A tapered emerald diamond is rectangular in terms of shape and has wider ends, and the tapered end follows a ring setting's curve. On the other hand, a straight emerald diamond is close to rectangular and is equal in width across the gem's length. It offers symmetry to an engagement ring and often looks bigger than other diamond of equal carat weight owing to the considerable table size.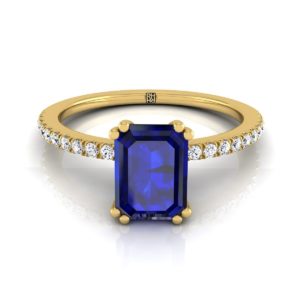 Straight emerald diamond accents can be arranged along a bigger centerpiece diamond or next to one another in a row, which improves the look of a plain band. This is more pronounced in an emerald diamond engagement ring with channel setting.