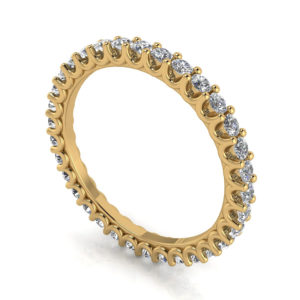 Buying diamond rings can be tricky no matter how careful you are. If you are shopping for gold diamond promise rings, you can consider reading the guide below to shop for one more efficiently.
Band Metal
The most popular choice for band metals is platinum and white gold. When it comes to durability, platinum is the best pick. However, it can be more expensive than all other metals, and hence, white gold would be a more affordable choice. Other metal choices for diamond rings include yellow gold and rose gold.
Ring Style
Before buying diamond rings, you should definitely know whether your partner likes an understated and minimalistic look or prefers a bit of bold and glamorous look. According to this knowledge, you can choose from styles like classic, halo, unique, vintage, or solitaire designs.
A Personal Touch
Adding an element of personal touch to gold diamond promise rings can be a great choice and it can mean a lot to her. Try incorporating some elements having sentimental significance to the rings that only you two will understand. You can even consider doing personalized engravings with good phrases.
Apart from these three, you should know your partner's right ring size before you set out to buy one. Traditionally, these rings are worn on the left-hand ring finger, however; they can be worn on any other fingers too. Thus, you need to know the appropriate size of the finger to pick the ring.