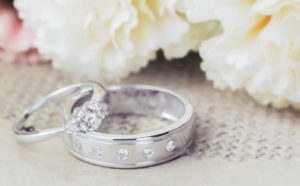 Some of the best diamond ring settings that you may consider while purchasing a diamond wedding ring for men are given below.
Illusion Setting
In an illusion diamond ring setting, a metal setting with a faceted pattern is given around the main gemstone. Additionally, it will be embellished with a faux prong setting to offer a realistic appeal. This whole setting not only makes an illusion of a huge solitaire ring but also offers an extra security to the main gemstone in your wedding diamond ring.
This is one of the commonly used settings in diamond wedding ring for men. Here, the center diamond will be encased by a metal setting in order to safeguard the gemstone from every angle. Additionally, this setting will give a sophisticated appeal to a wedding diamond ring and keep it subtle and low-key.
Gypsy Setting
Another common wedding diamond ring setting for men is the gypsy setting.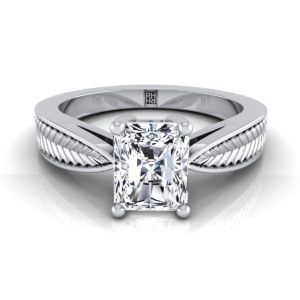 Here, the diamond ring band is designed in such a way that it gets thicker towards the center stone. In fact, there will be a dome-shaped structure at the center of the ring on which a gemstone is embedded.