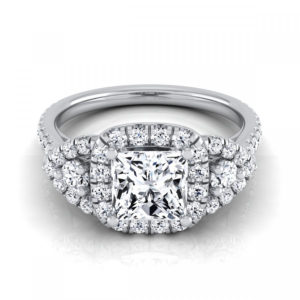 It is also called past present and future ring. so buying one means you not only get a beautiful ring with the three-stone setting but one that is meaningful too.
Several people select a three-stone ring setting since they can customize it as per their needs. People have the option to select similar sized diamonds, the gemstones of distinct sizes and shapes, or side stones such as emerald, ruby and other colorful birthstones.
Three stone settings work best with radiant cut, round brilliant, cushion cut, emerald cut, and princess cut diamonds. However, when designing one of these, it is important that the three gemstones complement one another.
You can use any of the following designs as an inspiration for your three stone
diamond rings.