A classic and timeless engagement ring setting is a diamond solitaire, yet many people fancy colored gems such as emerald, ruby, sapphire, or aquamarine. The trendiest and traditional color of sapphire is blue, which looks flattering and exquisite on the finger.
Sapphire is one of the "big three gemstones", which also comprise ruby and emerald. The gem is available in a rainbow color spectrum, so you can choose sapphire in your or lover's favorite hue like, say, one that matches her skin tone or eye color. This lets you create a personalized sapphire engagement ring.
The color especially makes a difference in engagement rings without diamonds at the center. Much like sapphire, aquamarine is also a blue beauty. It looks stunning in single stone ring settings.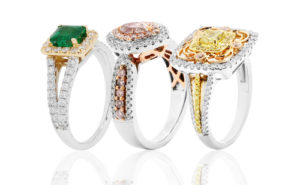 Antique Engagement Rings without Diamonds
In the Victorian period, sapphires and other colored gems were the usual centerpiece choices. Even the Art Nouveau rings featured dreamy centerpiece gems like amethyst, pearl, moonstone, opal, and citrine. While engagement rings from the Art Deco and retro periods tend to have large center diamonds, those period designs feature numerous small diamonds arranged in creative patterns. Selecting an antique or vintage-inspired ring is a good way to find a non-diamond style that looks unique.