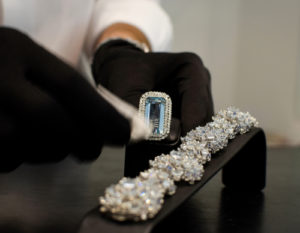 Speaking of diamond ring cleaning, the best option is to rely on professional cleaners at least thrice every year. However, the frequency of cleaning the diamond rings will change depending on your usage and lifestyle. So, if you use the diamond engagement ring or wedding ring on a daily basis, you need to have it cleaned more often.
Note that professional cleaning is expensive. Plus, subjecting your diamonds to high-end cleaning regularly may damage its overall setting. Hence, it is recommended to opt out of this for the rings that you use daily or regularly. In fact, you can clean your diamond rings easily at home too.
Now, if you were wondering how do you clean a diamond ring at home, one of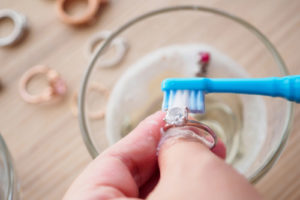 the best options for that is to make a cleaning solution using warm water and a liquid detergent. Take care to choose a mild detergent since the chemicals in strong detergents may corrode or damage the metal setting of the ring. Once you made the solution, put your diamond in it for some time, and scrub the dirt off gently using a soft-bristled brush. Finally, wash your ring thoroughly under running water and dry it well.