This is why an American diamond ring is way too cheap when compared to a real diamond ring.
Diamond experts can spot the difference between the stones instantly, but untrained eyes can hardly find any difference because of the incredible similarities shared by them. So, it is really important to know how to differentiate a real diamond ring and an American diamond ring, so that you do not get fooled.
The first thing you need to do here is to check whether the stone is scratch-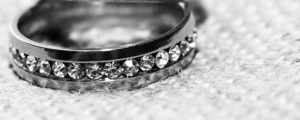 resistant or not. Since diamonds are the hardest natural material, it will not get scratched that easily, whereas American diamonds are prone to scratches, chippings, and other damages.
Another option to identify a cubic zirconia diamond ring is the fog test. For this, just breathe on the stone to create a fog-like texture on it. Real diamonds will instantly clear it up because of their heat-retaining property, while American diamonds will remain foggy for a longer period. You can also do a weight test; an American diamond is 50 percent heavier when compared to a real diamond of equal size.