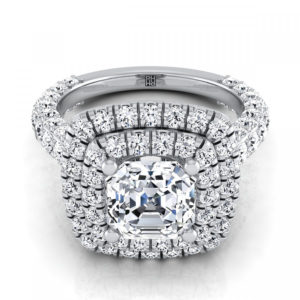 These fancy shaped diamonds are loved for their classic elegance and vintage shine, which is why several celebrities have been spotted flaunting emerald and Asscher cut diamond ring antique jewelry.
The main distinction between emerald and Asscher cut is the shape of the gemstone. Emerald cut gemstones are known for their rectangular and elongated shape, with a majority of them having Length to Width ratio between 1:1.5. On the other hand, Asscher diamond cuts are square-shaped, are cut to a perfectly square shape, and often appear more like an octagon shape with their cropped corners. Asscher cut actually became popular in the 1920s, and are an ideal choice for having a vintage engagement ring appeal.
Both the step diamond cuts work only on a rectangular or square shape. For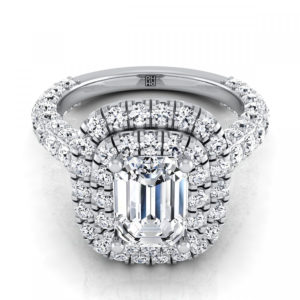 them to be cut this way, their facets have to be composed of straight lines running parallel to their sides. From there, though, the gemstone cuts vary. Asscher cut diamond has bigger step facets, a smaller table, and a higher crown than an emerald cut one, making the former more brilliant-cut than the latter. The emerald cut gems' wider and more open table gives them a classic and elegant look, though it also means that any type of inclusion or blemish can be easily noticeable.