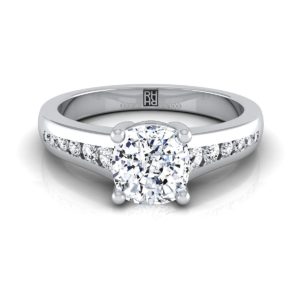 Almost everyone is keen on choosing a distinct diamond engagement ring for her in order to flaunt it on her engagement day. For obvious reasons, the most important part in a diamond engagement ring is the main gemstone encrusted on it. Hence, the best way to achieve a unique and exclusive appeal for your sparkler is to try out different types of diamonds.
Speaking of that, one of the stylish gemstones that you may consider is a cushion cut diamond. Fortunately, there are many cushion cut diamond ring designs available in the stores that are worth trying out.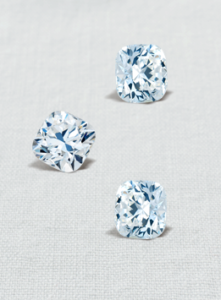 One of the commonly used designs for a cushion diamond ring is the one that features halo settings. In this type of designs, a cushion cut diamond of respectable size will be encircled with a halo of melee diamonds by means of mini prong settings. This type of cushion cut diamond ring designs is ideal for those who prefer a stylish ring with a traditional twist.
Another incredible cushion diamond ring design is to go with a channel setting. Here, a cushion cut diamond is flaunted at the center of a platinum ring and is beautified by using a split shank. Additionally, the diamond ring band is channel-set with melee diamonds for an utmost sparkle.