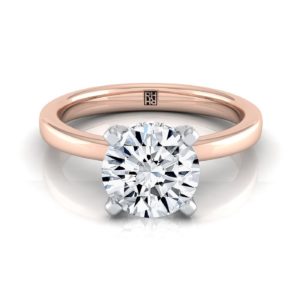 Some of the suitable settings for round diamond solitaire engagement rings are given below.
This is one of the traditional diamond ring settings to consider. Here, four claw-like metal structures known as prongs are used in order to secure the gemstone in a ring. Since a maximum surface area of the gemstone is exposed in this case, the overall shine showcased by this type of diamond rings will be inimitable.
Another classic, as well as a modern diamond ring design option, is the bezel setting. Here, a gemstone is entirely encased in a metal setting in order to ensure a maximum amount of security. However, the light entering a bezel set diamond ring will be minimal and so will be its shine. You may go for a half bezel setting in order to tackle this issue.
Pave Setting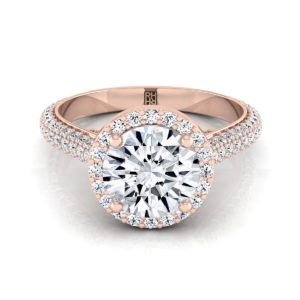 If you are looking for a luxurious diamond ring setting, the pave setting will be perfect. Here, the gemstone will be encircled with a layer of tiny diamond accents in order to secure the stone as well as to lift up the overall shine. Usually, the tiny accents will be secured using mini prong setting.