The classic ring, however, has been here through all that, and will presumably stay for as long if not longer. Below are a few things that set them apart.
Simple, Prominent Stones
Who isn't attracted to solitaires? With their simple cuts, these focus the eye on the center diamond, which has no visible flaws. For that last bit, you would need to dish out significant cash, but it is worth it. Absolute perfection is not the aim here, though, which means the look can be manipulated with the right cut.
Beautiful Band
One good option here is platinum, which is known for its hypoallergenic properties. It has a remarkable shine that is not prone to scratching. You should also consider white gold, which has a soft appearance much like that of silver.
Subtle Details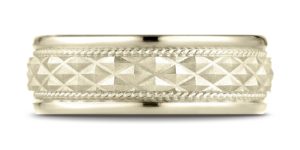 Engraved details are a strong trend these days. These can be placed on the inside of the band, making it more personal than showy.